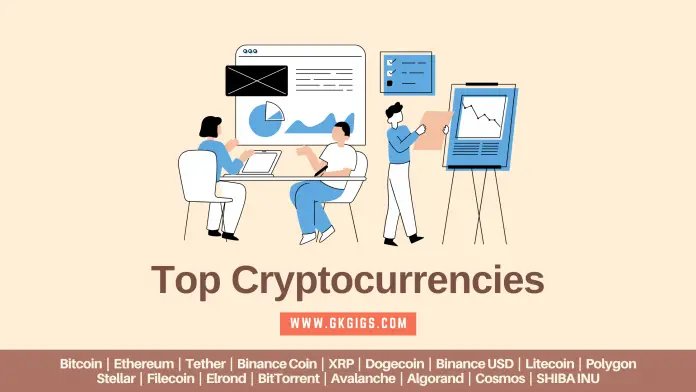 Last Updated: 5 April 2023
In this article, we bring You the list of top Cryptocurrencies in the world that is very popular amongst traders and crypto enthusiasts.
Before we get started let us have a quick intro to cryptocurrency.
Cryptocurrency is a digital currency that is secured by the Cryptography Technique, which is a method for protecting digital pieces of information by encrypting them with the use of codes.
Most Cryptocurrencies are decentralized networks based on Blockchain Technology. Cryptocurrencies are not issued by any central authority, which theoretically makes them immune to government interference or manipulation.
Interesting Facts About Cryptocurrency
---
Anonymous Mr. Satoshi Nakamoto created the first Bitcoin in the world. It was first released as an Open-Source Software on 3rd January 2009.
1⁄1000 Bitcoins are called Millibitcoin and 1⁄100,000,000 Bitcoins are called Satoshi.
Litecoin was the first successful Cryptocurrency to use Scrypt as its Hash function instead of SHA-256.
Peercoin is the first Cryptocurrency to use a Proof-Of-Work/Proof-Of-Stake Hybrid.
BlockChain provides the validity of each Cryptocurrency's Coins.
Ohio is the first state in the USA to accept Tax payments via Cryptocurrency.
The word CRYPTOGRAPHY means Crypt: Hidden and Graphy: Writing.
If you lose the private key of your Crypto Wallet, the chances of getting it back are close to never.
Cryptocurrency provides International Transactions without Exchange.
There are more than 6,000 Cryptocurrencies but Bitcoin is King.
Cryptocurrency Abbreviations
---
| No. | Term | Full-Form |
| --- | --- | --- |
| 1 | Altcoin | Alternative To Bitcoin |
| 2 | ATH | All Time High |
| 3 | BIP | Bitcoin Improvement Proposal |
| 4 | BTM | Bytom |
| 5 | DAO | Decentralized Autonomous Organization |
| 6 | DAPP | Decentralized Applications |
| 7 | DPoS | Delegated Proof of Stake |
| 8 | DYOR | Do Your Own Research |
| 9 | FOMO  | Fear of Missing Out |
| 10 | FUD | Fear, Uncertainty, and Doubt |
| 11 | HODL | Hold On For Dear Life |
| 12 | ICO | Initial Coin Offering |
| 13 | ITO | Initial Token Offering |
| 14 | LN | Lightning Network |
| 15 | Sats | Satoshis |
| 16 | SegWit | Segregated Witness |
| 17 | SoV | Store of Value |
| 18 | UoA | Unit of Account |
| 19 | WP | Whitepaper |
| 20 | YTD | Year to Date |
List Of Top 1000 Cryptocurrencies In The World
---
Top 50 Cryptocurrencies
---
| No. | Cryptocurrency | Symbol |
| --- | --- | --- |
| 1 | Bitcoin | BTC |
| 2 | Ethereum | ETH |
| 3 | Tether | USDT |
| 4 | Binance Coin | BNB |
| 5 | Cardano | ADA |
| 6 | XRP | XRP |
| 7 | Dogecoin | DOGE |
| 8 | USD Coin | USDC |
| 9 | Polkadot | DOT |
| 10 | Uniswap | UNI |
| 11 | Binance USD | BUSD |
| 12 | Bitcoin Cash | BCH |
| 13 | Chainlink | LINK |
| 14 | Solana | SOL |
| 15 | Litecoin | LTC |
| 16 | Wrapped Bitcoin | WBTC |
| 17 | Internet Computer | ICP |
| 18 | Ethereum Classic | ETC |
| 19 | Polygon | MATIC |
| 20 | Stellar | XLM |
| 21 | THETA | THETA |
| 22 | VeChain | VET |
| 23 | Filecoin | FIL |
| 24 | Terra | LUNA |
| 25 | Dai | DAI |
| 26 | TRON | TRX |
| 27 | Aave | AAVE |
| 28 | Monero | XMR |
| 29 | EOS | EOS |
| 30 | FTX Token | FTT |
| 31 | PancakeSwap | CAKE |
| 32 | Crypto.com Coin | CRO |
| 33 | The Graph | GRT |
| 34 | Maker | MKR |
| 35 | Neo | NEO |
| 36 | Bitcoin BEP2 | BTCB |
| 37 | SHIBA INU | SHIB |
| 38 | Klaytn | KLAY |
| 39 | Cosmos | ATOM |
| 40 | Tezos | XTZ |
| 41 | Bitcoin SV | BSV |
| 42 | UNUS SED LEO | LEO |
| 43 | Axie Infinity | AXS |
| 44 | Algorand | ALGO |
| 45 | Avalanche | AVAX |
| 46 | Compound | COMP |
| 47 | Amp | AMP |
| 48 | IOTA | MIOTA |
| 49 | BitTorrent | BTT |
| 50 | Elrond | EGLD |
---
Related: 1000+ List Of All Computer Related Full Form: A To Z (2023)
---
Top 100 Cryptocurrencies
---
| No. | Cryptocurrency | Symbol |
| --- | --- | --- |
| 51 | Hedera Hashgraph | HBAR |
| 52 | Huobi Token | HT |
| 53 | TerraUSD | UST |
| 54 | Kusama | KSM |
| 55 | Quant | QNT |
| 56 | Decred | DCR |
| 57 | Waves | WAVES |
| 58 | Dash | DASH |
| 59 | Chiliz | CHZ |
| 60 | THORChain | RUNE |
| 61 | Stacks | STX |
| 62 | NEM | XEM |
| 63 | Theta Fuel | TFUEL |
| 64 | Zcash | ZEC |
| 65 | Celsius | CEL |
| 66 | OKB | OKB |
| 67 | Holo | HOT |
| 68 | SushiSwap | SUSHI |
| 69 | Decentraland | MANA |
| 70 | Helium | HNT |
| 71 | Enjin Coin | ENJ |
| 72 | TrueUSD | TUSD |
| 73 | yearn.finance | YFI |
| 74 | Synthetix | SNX |
| 75 | NEAR Protocol | NEAR |
| 76 | Flow | FLOW |
| 77 | Nexo | NEXO |
| 78 | Zilliqa | ZIL |
| 79 | Basic Attention Token | BAT |
| 80 | Qtum | QTUM |
| 81 | Bitcoin Gold | BTG |
| 82 | XinFin Network | XDC |
| 83 | Telcoin | TEL |
| 84 | Bancor | BNT |
| 85 | Paxos Standard | PAX |
| 86 | Ravencoin | RVN |
| 87 | Celo | CELO |
| 88 | KuCoin Token | KCS |
| 89 | Harmony | ONE |
| 90 | 0x | ZRX |
| 91 | Siacoin | SC |
| 92 | DigiByte | DGB |
| 93 | Ontology | ONT |
| 94 | Mdex | MDX |
| 95 | Voyager Token | VGX |
| 96 | Horizen | ZEN |
| 97 | Ankr | ANKR |
| 98 | Fantom | FTM |
| 99 | SwissBorg | CHSB |
| 100 | ICON | ICX |
---
Related: General Knowledge On Cryptocurrency (Bitcoin & BlockChain)
---
Top 150 Cryptocurrencies
---
| No. | Cryptocurrency | Symbol |
| --- | --- | --- |
| 101 | Curve DAO Token | CRV |
| 102 | Nano | NANO |
| 103 | Perpetual Protocol | PERP |
| 104 | OMG Network | OMG |
| 105 | UMA | UMA |
| 106 | renBTC | RENBTC |
| 107 | Revain | REV |
| 108 | Reserve Rights | RSR |
| 109 | Lisk | LSK |
| 110 | HUSD | HUSD |
| 111 | Bitcoin Diamond | BCD |
| 112 | Kava.io | KAVA |
| 113 | 1inch | 1INCH |
| 114 | IOST | IOST |
| 115 | Mina | MINA |
| 116 | Arweave | AR |
| 117 | Ren | REN |
| 118 | The Sandbox | SAND |
| 119 | Neutrino USD | USDN |
| 120 | Verge | XVG |
| 121 | Golem | GLM |
| 122 | BakeryToken | BAKE |
| 123 | MediBloc | MED |
| 124 | WazirX | WRX |
| 125 | Wootrade | WOO |
| 126 | Loopring | LRC |
| 127 | Storj | STORJ |
| 128 | Livepeer | LPT |
| 129 | Ocean Protocol | OCEAN |
| 130 | SKALE Network | SKL |
| 131 | Nervos Network | CKB |
| 132 | Venus | XVS |
| 133 | Alpha Finance Lab | ALPHA |
| 134 | WINkLink | WIN |
| 135 | Gnosis | GNO |
| 136 | GateToken | GT |
| 137 | WAX | WAXP |
| 138 | Conflux Network | CFX |
| 139 | Status | SNT |
| 140 | MaidSafeCoin | MAID |
| 141 | PAX Gold | PAXG |
| 142 | Fetch.ai | FET |
| 143 | Dent | DENT |
| 144 | Augur | REP |
| 145 | iExec RLC | RLC |
| 146 | Swipe | SXP |
| 147 | Origin Protocol | OGN |
| 148 | Stratis | STRAX |
| 149 | VeThor Token | VTHO |
| 150 | ASD | BTMX |
---
Related: Qualcomm Snapdragon Processor List (2023 Updated)
---
Top 200 Cryptocurrencies
---
| No. | Cryptocurrency | Symbol |
| --- | --- | --- |
| 151 | Numeraire | NMR |
| 152 | Constellation | DAG |
| 153 | Gemini Dollar | GUSD |
| 154 | MyNeighborAlice | ALICE |
| 155 | StormX | STMX |
| 156 | Ergo | ERG |
| 157 | Injective Protocol | INJ |
| 158 | Unibright | UBT |
| 159 | Bitcoin Standard Hashrate Token | BTCST |
| 160 | Band Protocol | BAND |
| 161 | Orchid | OXT |
| 162 | Ardor | ARDR |
| 163 | Ontology Gas | ONG |
| 164 | TomoChain | TOMO |
| 165 | Energy Web Token | EWT |
| 166 | Prometeus | PROM |
| 167 | Badger DAO | BADGER |
| 168 | IoTeX | IOTX |
| 169 | Reef | REEF |
| 170 | Serum | SRM |
| 171 | FUNToken | FUN |
| 172 | SingularityNET | AGIX |
| 173 | Steem | STEEM |
| 174 | Celer Network | CELR |
| 175 | Uquid Coin | UQC |
| 176 | NKN | NKN |
| 177 | Civic | CVC |
| 178 | MVL | MVL |
| 179 | Orbs | ORBS |
| 180 | BORA | BORA |
| 181 | Hive | HIVE |
| 182 | Cartesi | CTSI |
| 183 | Balancer | BAL |
| 184 | Polymath | POLY |
| 185 | Aragon | ANT |
| 186 | ZKSwap | ZKS |
| 187 | Ampleforth | AMPL |
| 188 | Casper | CSPR |
| 189 | DODO | DODO |
| 190 | Enzyme | MLN |
| 191 | NuCypher | NU |
| 192 | RSK Infrastructure Framework | RIF |
| 193 | Ark | ARK |
| 194 | Ultra | UOS |
| 195 | DFI.Money | YFII |
| 196 | Strike | STRK |
| 197 | XYO | XYO |
| 198 | Metadium | META |
| 199 | MCO | MCO |
| 200 | Dero | DERO |
---
Related: List Of Top 21 Computer Companies And Their Founders
---
Top 300 Cryptocurrencies
---
| No. | Cryptocurrency | Symbol |
| --- | --- | --- |
| 201 | HEX | HEX |
| 202 | Wrapped BNB | WBNB |
| 203 | stETH (Lido) | STETH |
| 204 | Fei Protocol | FEI |
| 205 | Counos X | CCXX |
| 206 | Huobi BTC | HBTC |
| 207 | Creditcoin | CTC |
| 208 | SafeMoon | SAFEMOON |
| 209 | Egoras | EGR |
| 210 | The Transfer Token | TTT |
| 211 | INO COIN | INO |
| 212 | Bitcoin Cash ABC | BCHA |
| 213 | eCash | XEC |
| 214 | DeFiChain | DFI |
| 215 | WhiteCoin | XWC |
| 216 | NXM | NXM |
| 217 | Symbol | XYM |
| 218 | Liquity USD | LUSD |
| 219 | Bytecoin | BCN |
| 220 | Pirate Chain | ARRR |
| 221 | Venus BNB | vBNB |
| 222 | ECOMI | OMI |
| 223 | Zelwin | ZLW |
| 224 | yOUcash | YOUC |
| 225 | Pundi X[new] | PUNDIX |
| 226 | Orbit Chain | ORC |
| 227 | Kyber Network Crystal Legacy | KNCL |
| 228 | TitanSwap | TITAN |
| 229 | HedgeTrade | HEDG |
| 230 | Kyber Network Crystal v2 | KNC |
| 231 | Bitpanda Ecosystem Token | BEST |
| 232 | Dawn Protocol | DAWN |
| 233 | Alchemy Pay | ACH |
| 234 | Electroneum | ETN |
| 235 | Alien Worlds | TLM |
| 236 | Frax | FRAX |
| 237 | Mirror Protocol | MIR |
| 238 | sUSD | SUSD |
| 239 | Illuvium | ILV |
| 240 | Persistence | XPRT |
| 241 | Raydium | RAY |
| 242 | Sologenic | SOLO |
| 243 | KOK | KOK |
| 244 | Coin98 | C98 |
| 245 | Toko Token | TKO |
| 246 | Orion Protocol | ORN |
| 247 | Doctors Coin | DRS |
| 248 | Anchor Protocol | ANC |
| 249 | Rocket Pool | RPL |
| 250 | Akash Network | AKT |
| 251 | KLAYswap Protocol | KSP |
| 252 | PlayDapp | PLA |
| 253 | Venus BTC | vBTC |
| 254 | LUKSO | LYXe |
| 255 | Keep Network | KEEP |
| 256 | Linear | LINA |
| 257 | Sapphire | SAPP |
| 258 | Yield Guild Games | YGG |
| 259 | Render Token | RNDR |
| 260 | Audius | AUDIO |
| 261 | XYO | XYO |
| 262 | dKargo | DKA |
| 263 | ABBC Coin | ABBC |
| 264 | KardiaChain | KAI |
| 265 | Terra Virtua Kolect | TVK |
| 266 | Smooth Love Potion | SLP |
| 267 | aelf | ELF |
| 268 | Tribe | TRIBE |
| 269 | Everipedia | IQ |
| 270 | Venus XVS | vXVS |
| 271 | Ethernity Chain | ERN |
| 272 | Alpaca Finance | ALPACA |
| 273 | BitShares | BTS |
| 274 | Radicle | RAD |
| 275 | Metal | MTL |
| 276 | Phala Network | PHA |
| 277 | Rakon | RKN |
| 278 | Chromia | CHR |
| 279 | AllianceBlock | ALBT |
| 280 | CRYPTO20 | C20 |
| 281 | Wanchain | WAN |
| 282 | Ampleforth Governance Token | FORTH |
| 283 | Populous | PPT |
| 284 | OriginTrail | TRAC |
| 285 | Clover Finance | CLV |
| 286 | JUST | JST |
| 287 | Syntropy | NOIA |
| 288 | XeniosCoin | XNC |
| 289 | Cream Finance | CREAM |
| 290 | Power Ledger | POWR |
| 291 | Alchemix | ALCX |
| 292 | Utrust | UTK |
| 293 | Oasis Network | ROSE |
| 294 | ApeSwap Finance | BANANA |
| 295 | Gitcoin | GTC |
| 296 | Gala | GALA |
| 297 | Venus ETH | vETH |
| 298 | MATH | MATH |
| 299 | ZEON | ZEON |
| 300 | QuarkChain | QKC |
---
Related: GK On Cyber Security: Cyber Crime, Cyber Attack (Question And Answer)
---
Top 400 Cryptocurrencies
---
| No. | Cryptocurrency | Symbol |
| --- | --- | --- |
| 301 | Sport and Leisure | SNL |
| 302 | Klever | KLV |
| 303 | DigitalBits | XDB |
| 304 | Lido DAO Token | LDO |
| 305 | Sun (New) | SUN |
| 306 | Hathor | HTR |
| 307 | Hifi Finance | MFT |
| 308 | Trust Wallet Token | TWT |
| 309 | Travala.com | AVA |
| 310 | Velas | VLX |
| 311 | Streamr | DATA |
| 312 | SafePal | SFP |
| 313 | Polkastarter | POLS |
| 314 | Kleros | PNK |
| 315 | NFTX | NFTX |
| 316 | Mask Network | MASK |
| 317 | Syscoin | SYS |
| 318 | Komodo | KMD |
| 319 | Hxro | HXRO |
| 320 | COTI | COTI |
| 321 | Wrapped NXM | WNXM |
| 322 | Bytom | BTM |
| 323 | Radix | EXRD |
| 324 | Tokenlon Network Token | LON |
| 325 | Litentry | LIT |
| 326 | Rari Governance Token | RGT |
| 327 | USDX [Kava] | USDX |
| 328 | Rally | RLY |
| 329 | Elitium | EUM |
| 330 | STASIS EURO | EURS |
| 331 | Divi | DIVI |
| 332 | Secret | SCRT |
| 333 | PEAKDEFI | PEAK |
| 334 | Aavegotchi | GHST |
| 335 | Crust Network | CRU |
| 336 | Newscrypto | NWC |
| 337 | Centrality | CENNZ |
| 338 | RChain | REV |
| 339 | Bonfida | FIDA |
| 340 | Venus USDC | vUSDC |
| 341 | Dego Finance | DEGO |
| 342 | IRISnet | IRIS |
| 343 | KeeperDAO | ROOK |
| 344 | district0x | DNT |
| 345 | Gas | GAS |
| 346 | TokenPocket | TPT |
| 347 | MonaCoin | MONA |
| 348 | NewYork Exchange | NYE |
| 349 | ReddCoin | RDD |
| 350 | EFFORCE | WOZX |
| 351 | BarnBridge | BOND |
| 352 | Carry | CRE |
| 353 | Harvest Finance | FARM |
| 354 | Chimpion | BNANA |
| 355 | PAC Protocol | PAC |
| 356 | Vai | VAI |
| 357 | unFederalReserve | eRSDL |
| 358 | Loom Network | LOOM |
| 359 | RSK Smart Bitcoin | RBTC |
| 360 | MiL.k | MLK |
| 361 | ankrETH | aEth |
| 362 | saffron.finance | SFI |
| 363 | Automata Network | ATA |
| 364 | RAMP | RAMP |
| 365 | TrustSwap | SWAP |
| 366 | bZx Protocol | BZRX |
| 367 | Akropolis | AKRO |
| 368 | Sentinel Protocol | UPP |
| 369 | Molecular Future | MOF |
| 370 | GNY | GNY |
| 371 | Massnet | MASS |
| 372 | Tellor | TRB |
| 373 | Kin | KIN |
| 374 | Haven Protocol | XHV |
| 375 | Oxygen | OXY |
| 376 | Thunder Token | TT |
| 377 | Function X | FX |
| 378 | DerivaDAO | DDX |
| 379 | LTO Network | LTO |
| 380 | cVault.finance | CORE |
| 381 | Flamingo | FLM |
| 382 | Centrifuge | CFG |
| 383 | inSure DeFi | SURE |
| 384 | Aion | AION |
| 385 | SuperFarm | SUPER |
| 386 | Beefy.Finance | BIFI |
| 387 | MX Token | MX |
| 388 | WELL | WELL |
| 389 | Verasity | VRA |
| 390 | Basid Coin | BASID |
| 391 | Handshake | HNS |
| 392 | Ellipsis | EPS |
| 393 | Burger Swap | BURGER |
| 394 | Energi | NRG |
| 395 | CertiK | CTK |
| 396 | Standard Tokenization Protocol | STPT |
| 397 | Qcash | QC |
| 398 | WHALE | WHALE |
| 399 | Request | REQ |
| 400 | Hydra | HYDRA |
---
Related: 100 Facts About Elon Musk You Never Heard On The Internet
---
Top 500 Cryptocurrencies
---
| No. | Cryptocurrency | Symbol |
| --- | --- | --- |
| 401 | MXC | MXC |
| 402 | Firo | FIRO |
| 403 | Sora | XOR |
| 404 | DAO Maker | DAO |
| 405 | DAD | DAD |
| 406 | Shyft Network | SHFT |
| 407 | FIO Protocol | FIO |
| 408 | Rarible | RARI |
| 409 | FC Barcelona Fan Token | BAR |
| 410 | Super Zero Protocol | SERO |
| 411 | QuickSwap | QUICK |
| 412 | DIA | DIA |
| 413 | BEPRO Network | BEPRO |
| 414 | Groestlcoin | GRS |
| 415 | TROY | TROY |
| 416 | Sentinel | DVPN |
| 417 | Alpha Quark Token | AQT |
| 418 | LGCY Network | LGCY |
| 419 | Bloomzed Loyalty Club Ticket | BLCT |
| 420 | StableXSwap | STAX |
| 421 | AdEx Network | ADX |
| 422 | MimbleWimbleCoin | MWC |
| 423 | HARD Protocol | HARD |
| 424 | Steem Dollars | SBD |
| 425 | TrueFi | TRU |
| 426 | API3 | API3 |
| 427 | DxChain Token | DX |
| 428 | Elastos | ELA |
| 429 | GlitzKoin | GTN |
| 430 | Humanscape | HUM |
| 431 | Hegic | HEGIC |
| 432 | Dvision Network | DVI |
| 433 | Revolution Populi | RVP |
| 434 | Refereum | RFR |
| 435 | Bella Protocol | BEL |
| 436 | MANTRA DAO | OM |
| 437 | Student Coin | STC |
| 438 | MovieBloc | MBL |
| 439 | Tornado Cash | TORN |
| 440 | Morpheus.Network | MRPH |
| 441 | Marlin | POND |
| 442 | Neutrino Token | NSBT |
| 443 | Bluzelle | BLZ |
| 444 | PARSIQ | PRQ |
| 445 | Beam | BEAM |
| 446 | AXEL | AXEL |
| 447 | Venus BUSD | vBUSD |
| 448 | Liquity | LQTY |
| 449 | RedFOX Labs | RFOX |
| 450 | Poseidon Network | QQQ |
| 451 | Kadena | KDA |
| 452 | Everest | ID |
| 453 | Manchester City Fan Token | CITY |
| 454 | Waltonchain | WTC |
| 455 | BTU Protocol | BTU |
| 456 | Bounce Token | AUCTION |
| 457 | Alitas | ALT |
| 458 | REVV | REVV |
| 459 | Aergo | AERGO |
| 460 | Celo Dollar | CUSD |
| 461 | Dock | DOCK |
| 462 | Anyswap | ANY |
| 463 | Metronome | MET |
| 464 | BitKan | KAN |
| 465 | Contentos | COS |
| 466 | xDai | STAKE |
| 467 | Ultiledger | ULT |
| 468 | Frax Share | FXS |
| 469 | ARPA Chain | ARPA |
| 470 | ChainX | PCX |
| 471 | Deeper Network | DPR |
| 472 | DigixDAO | DGD |
| 473 | GXChain | GXC |
| 474 | APENFT | NFT |
| 475 | Rai Reflex Index | RAI |
| 476 | Auto | AUTO |
| 477 | YIELD App | YLD |
| 478 | AMO Coin | AMO |
| 479 | Bitball Treasure | BTRS |
| 480 | Dusk Network | DUSK |
| 481 | NULS | NULS |
| 482 | Decentral Games | DG |
| 483 | CoinEx Token | CET |
| 484 | Valobit | VBIT |
| 485 | Mithril | MITH |
| 486 | Vulcan Forged PYR | PYR |
| 487 | Frontier | FRONT |
| 488 | VerusCoin | VRSC |
| 489 | Darma Cash | DMCH |
| 490 | ShareToken | SHR |
| 491 | v.systems | VSYS |
| 492 | Belt Finance | BELT |
| 493 | Moss Coin | MOC |
| 494 | Unifi Protocol DAO | UNFI |
| 495 | PowerPool | CVP |
| 496 | Safe | SAFE |
| 497 | Dragonchain | DRGN |
| 498 | DSLA Protocol | DSLA |
| 499 | Oxen | OXEN |
| 500 | CargoX | CXO |
---
Related: Top 100 Indian Brands And Companies That Sound Foreign
---
Top 600 Cryptocurrencies
---
| No. | Cryptocurrency | Symbol |
| --- | --- | --- |
| 501 | Efinity | EFI |
| 502 | CUDOS | CUDOS |
| 503 | PlatonCoin | PLTC |
| 504 | Unisocks | SOCKS |
| 505 | ASTA | ASTA |
| 506 | PIVX | PIVX |
| 507 | Zenon | ZNN |
| 508 | Aeternity | AE |
| 509 | Nexus | NXS |
| 510 | Atari Token | ATRI |
| 511 | Vesper | VSP |
| 512 | mStable USD | MUSD |
| 513 | PAID Network | PAID |
| 514 | Invictus Hyperion Fund | IHF |
| 515 | Paris Saint-Germain Fan Token | PSG |
| 516 | Telos | TLOS |
| 517 | Hacken Token | HAI |
| 518 | Hoge Finance | HOGE |
| 519 | My DeFi Pet | DPET |
| 520 | Bifrost (BFC) | BFC |
| 521 | Dogelon Mars | ELON |
| 522 | LATOKEN | LA |
| 523 | GET Protocol | GET |
| 524 | SparkPoint | SRK |
| 525 | Nimiq | NIM |
| 526 | HUNT | HUNT |
| 527 | Wing | WING |
| 528 | Selfkey | KEY |
| 529 | HyperCash | HC |
| 530 | PERL.eco | PERL |
| 531 | DeXe | DEXE |
| 532 | Edgeware | EDG |
| 533 | WaykiChain | WICC |
| 534 | DEAPcoin | DEP |
| 535 | Huobi Pool Token | HPT |
| 536 | NEST Protocol | NEST |
| 537 | Apollo Currency | APL |
| 538 | Galatasaray Fan Token | GAL |
| 539 | Lattice Token | LTX |
| 540 | Boson Protocol | BOSON |
| 541 | Freeway Token | FWT |
| 542 | Navcoin | NAV |
| 543 | BOSAGORA | BOA |
| 544 | Etherisc DIP Token | DIP |
| 545 | VITE | VITE |
| 546 | Fusion | FSN |
| 547 | Shopping | SPI |
| 548 | Maro | MARO |
| 549 | XSGD | XSGD |
| 550 | #MetaHash | MHC |
| 551 | Lotto | LOTTO |
| 552 | LCX | LCX |
| 553 | IDEX | IDEX |
| 554 | Vertcoin | VTC |
| 555 | VideoCoin | VID |
| 556 | Kylin | KYL |
| 557 | Nash | NEX |
| 558 | Veritaseum | VERI |
| 559 | Archer DAO Governance Token | ARCH |
| 560 | OpenOcean | OOE |
| 561 | BitMart Token | BMX |
| 562 | RAI Finance | RAI |
| 563 | Finxflo | FXF |
| 564 | Covalent | CQT |
| 565 | TNC Coin | TNC |
| 566 | Arianee | ARIA20 |
| 567 | Ferrum Network | FRM |
| 568 | Cortex | CTXC |
| 569 | Sentivate | SNTVT |
| 570 | Polkadex | PDEX |
| 571 | Shapeshift FOX Token | FOX |
| 572 | Strong | STRONG |
| 573 | Phoenix Global | PHB |
| 574 | EpiK Protocol | EPK |
| 575 | DEXTools | DEXT |
| 576 | Bridge Mutual | BMI |
| 577 | Mirrored iShares Silver Trust | mSLV |
| 578 | Venus Reward Token | VRT |
| 579 | Mirrored Amazon | mAMZN |
| 580 | Juggernaut | JGN |
| 581 | Venus USDT | vUSDT |
| 582 | Stafi | FIS |
| 583 | Cocos-BCX | COCOS |
| 584 | Gifto | GTO |
| 585 | AhaToken | AHT |
| 586 | Nerve Finance | NRV |
| 587 | CUTcoin | CUT |
| 588 | Empty Set Dollar | ESD |
| 589 | Mirrored Microsoft | mMSFT |
| 590 | Skycoin | SKY |
| 591 | Darwinia Network | RING |
| 592 | Bao Finance | BAO |
| 593 | pNetwork | PNT |
| 594 | All Sports | SOC |
| 595 | Unifty | NIF |
| 596 | FREE Coin | FREE |
| 597 | Switcheo | SWTH |
| 598 | Project Pai | PAI |
| 600 | USDK | USDK |
---
Related: Top American Companies In 2023 With Their Establishment Dates
---
Top 700 Cryptocurrencies
---
| No. | Cryptocurrency | Symbol |
| --- | --- | --- |
| 601 | LGO Token | LGO |
| 602 | Cindicator | CND |
| 603 | Impossible Finance | IF |
| 604 | Quantstamp | QSP |
| 605 | Mirrored Netflix | mNFLX |
| 606 | Keep3rV1 | KP3R |
| 607 | Polychain Monsters | PMON |
| 608 | Lambda | LAMB |
| 609 | ARMOR | ARMOR |
| 610 | Mirrored Invesco QQQ Trust | mQQQ |
| 611 | Dfyn Network | DFYN |
| 612 | BASIC | BASIC |
| 613 | Signum | SIGNA |
| 614 | UniLend | UFT |
| 615 | PIBBLE | PIB |
| 616 | Convergence | CONV |
| 617 | UBIX.Network | UBX |
| 618 | PRIZM | PZM |
| 619 | Router Protocol | ROUTE |
| 620 | Govi | GOVI |
| 621 | Aidos Kuneen | ADK |
| 622 | Muse | MUSE |
| 623 | Mirrored Twitter | mTWTR |
| 624 | SingularityDAO | SDAO |
| 625 | QASH | QASH |
| 626 | Mirrored Tesla | mTSLA |
| 627 | CUMROCKET | CUMMIES |
| 628 | Phantasma | SOUL |
| 629 | GoChain | GO |
| 630 | SmartKey | SKEY |
| 631 | Peercoin | PPC |
| 632 | Raiden Network Token | RDN |
| 633 | Mirrored Apple | mAAPL |
| 634 | Nebulas | NAS |
| 635 | Grin | GRIN |
| 636 | Permission Coin | ASK |
| 637 | Zano | ZANO |
| 638 | Mirrored United States Oil Fund | mUSO |
| 639 | FaraLand | FARA |
| 640 | Drep [new] | DREP |
| 641 | BTSE | BTSE |
| 642 | CoinLoan | CLT |
| 643 | ERC20 | ERC20 |
| 644 | Mirrored Alibaba | mBABA |
| 645 | Cashaa | CAS |
| 646 | VIDT Datalink | VIDT |
| 647 | Wirex Token | WXT |
| 648 | DinoSwap | DINO |
| 649 | DeGate | DG |
| 650 | TokenClub | TCT |
| 651 | Smartlands Network | SLT |
| 652 | NerveNetwork | NVT |
| 653 | ForTube | FOR |
| 654 | Mirrored iShares Gold Trust | mIAU |
| 655 | Alpha Impact | IMPACT |
| 656 | Homeros | HMR |
| 657 | TerraKRW | KRT |
| 658 | 0Chain | ZCN |
| 659 | Attila | ATT |
| 660 | SOLVE | SOLVE |
| 661 | BSCPAD | BSCPAD |
| 662 | DIGG | DIGG |
| 663 | Quiztok | QTCON |
| 664 | DeepBrain Chain | DBC |
| 665 | BABB | BAX |
| 666 | MAP Protocol | MAP |
| 667 | BLOCKv | VEE |
| 668 | CryptoBlades | SKILL |
| 669 | FirmaChain | FCT |
| 670 | VIDY | VIDY |
| 671 | MAPS | MAPS |
| 672 | Morpheus Labs | MITX |
| 673 | Neblio | NEBL |
| 674 | BoringDAO | BOR |
| 675 | BitZ Token | BZ |
| 676 | Infinitecoin | IFC |
| 677 | Davinci Coin | DAC |
| 678 | Glitch | GLCH |
| 679 | SUKU | SUKU |
| 680 | Bitrue Coin | BTR |
| 681 | Proton | XPR |
| 682 | Unicly CryptoPunks Collection | UPUNK |
| 683 | DOGGY | DOGGY |
| 684 | Pangolin | PNG |
| 685 | ELYSIA | EL |
| 686 | Tokamak Network | TON |
| 687 | COVER Protocol | COVER |
| 688 | APY.Finance | APY |
| 689 | Obyte | GBYTE |
| 690 | The Midas Touch Gold | TMTG |
| 691 | dForce | DF |
| 692 | TOP | TOP |
| 693 | EOS Force | EOSC |
| 694 | Venus SXP | vSXP |
| 695 | Electric Vehicle Zone | EVZ |
| 696 | Cryptocean | CRON |
| 697 | Waves Enterprise | WEST |
| 698 | SALT | SALT |
| 699 | Hermez Network | HEZ |
| 700 | Pepe Cash | PEPECASH |
---
Related: List Of Top 20 Richest Person In The World 2023
---
Top 800 Cryptocurrencies
---
| No. | Cryptocurrency | Symbol |
| --- | --- | --- |
| 701 | GYEN | GYEN |
| 702 | GameCredits | GAME |
| 703 | Dovu | DOV |
| 704 | AppCoins | APPC |
| 705 | Namecoin | NMC |
| 706 | Measurable Data Token | MDT |
| 707 | Aleph.im | ALEPH |
| 708 | 88mph | MPH |
| 709 | Flux | FLUX |
| 710 | Bankera | BNK |
| 711 | Wabi | WABI |
| 712 | Graviton | GTON |
| 713 | Propy | PRO |
| 714 | Mushroom | MUSH |
| 715 | Ignis | IGNIS |
| 716 | MultiVAC | MTV |
| 717 | Blox | CDT |
| 718 | TE-FOOD | TONE |
| 719 | Aurora | AOA |
| 720 | 1irstcoin | FST |
| 721 | Polkamarkets | POLK |
| 722 | Callisto Network | CLO |
| 723 | LiquidApps | DAPP |
| 724 | Emirex Token | EMRX |
| 725 | Robonomics.network | XRT |
| 726 | Restart Energy MWAT | MWAT |
| 727 | Tranche Finance | SLICE |
| 728 | KickToken [new] | KICK |
| 729 | InsurAce | INSUR |
| 730 | SIX | SIX |
| 731 | AC Milan Fan Token | ACM |
| 732 | Juventus Fan Token | JUV |
| 733 | mStable Governance Token: Meta (MTA) | MTA |
| 734 | AIOZ Network | AIOZ |
| 735 | CYCLUB | CYCLUB |
| 736 | LikeCoin | LIKE |
| 737 | Mirrored ProShares VIX | mVIXY |
| 738 | Genesis Vision | GVT |
| 739 | MixMarvel | MIX |
| 740 | DXdao | DXD |
| 741 | King DAG | KDAG |
| 742 | Nucleus Vision | NCASH |
| 743 | Exeedme | XED |
| 744 | Ondori | RSTR |
| 745 | Santiment Network Token | SAN |
| 746 | Olyseum | OLY |
| 747 | LBRY Credits | LBC |
| 748 | Modefi | MOD |
| 749 | Tokenomy | TEN |
| 750 | Ternoa | CAPS |
| 751 | StackOs | STACK |
| 752 | Pickle Finance | PICKLE |
| 753 | TEMCO | TEMCO |
| 754 | Electra Protocol | XEP |
| 755 | Adshares | ADS |
| 756 | Idavoll Network | IDV |
| 757 | Cardstack | CARD |
| 758 | BigONE Token | ONE |
| 759 | Quantum Resistant Ledger | QRL |
| 760 | BIDR | BIDR |
| 761 | Props Token | PROPS |
| 762 | BnkToTheFuture | BFT |
| 763 | Particl | PART |
| 764 | Float Protocol | BANK |
| 765 | Swingby | SWINGBY |
| 766 | Dentacoin | DCN |
| 767 | Wilder World | WILD |
| 768 | TenX | PAY |
| 769 | JulSwap | JULD |
| 770 | Venus LINK | vLINK |
| 771 | Factom | FCT |
| 772 | Corra.Finance | CORA |
| 773 | Wall Street Games | WSG |
| 774 | Nxt | NXT |
| 775 | STEM CELL COIN | SCC |
| 776 | GoCrypto Token | GOC |
| 777 | USDJ | USDJ |
| 778 | Banano | BAN |
| 779 | FOAM | FOAM |
| 780 | Chrono.tech | TIME |
| 781 | dHedge DAO | DHT |
| 782 | Spartan Protocol | SPARTA |
| 783 | Oraichain Token | ORAI |
| 784 | BaaSid | BAAS |
| 785 | Enecuum | ENQ |
| 786 | Chain Guardians | CGG |
| 787 | CyberFi Token | CFi |
| 788 | Moeda Loyalty Points | MDA |
| 789 | Meme | MEME |
| 790 | ICHI | ICHI |
| 791 | KARMA | KARMA |
| 792 | PolkaFoundry | PKF |
| 793 | Validity | VAL |
| 794 | Atomic Wallet Coin | AWC |
| 795 | ArdCoin | ARDX |
| 796 | EUNO | EUNO |
| 797 | FLETA | FLETA |
| 798 | Minter Network | BIP |
| 799 | Rubic | RBC |
| 800 | Pendle | PENDLE |
---
Related: List Of 250+ Top Companies And Their Taglines And Slogans
---
Top 900 Cryptocurrencies
---
| No. | Cryptocurrency | Symbol |
| --- | --- | --- |
| 801 | Crowns | CWS |
| 802 | Solanium | SLIM |
| 803 | Konomi Network | KONO |
| 804 | OAX | OAX |
| 805 | Bread | BRD |
| 806 | Doge Token | DOGET |
| 807 | Wownero | WOW |
| 808 | Aeon | AEON |
| 809 | CVCoin | CVN |
| 810 | Stakenet | XSN |
| 811 | UniCrypt | UNCX |
| 812 | Peony | PNY |
| 813 | Time New Bank | TNB |
| 814 | LABS Group | LABS |
| 815 | Ducato Protocol Token | DUCATO |
| 816 | Mobius | MOBI |
| 817 | ALLY | ALY |
| 818 | Anchor Neural World | ANW |
| 819 | UpBots | UBXT |
| 820 | USDX [Lighthouse] | USDX |
| 821 | BitcoinHD | BHD |
| 822 | BHPCoin | BHP |
| 823 | Solrise Finance | SLRS |
| 824 | Venus LTC | vLTC |
| 825 | PLATINCOIN | PLC |
| 826 | WOM Protocol | WOM |
| 827 | Idle | IDLE |
| 828 | Viacoin | VIA |
| 829 | AS Roma Fan Token | ASR |
| 830 | Sylo | SYLO |
| 831 | Safe Haven | SHA |
| 832 | DuckDaoDime | DDIM |
| 833 | Newton | NEW |
| 834 | Swerve | SWRV |
| 835 | Aragon Court | ANJ |
| 836 | MOBOX | MBOX |
| 837 | Benchmark Protocol | MARK |
| 838 | Everex | EVX |
| 839 | Rainicorn | RAINI |
| 840 | DAFI Protocol | DAFI |
| 841 | Dora Factory | DORA |
| 842 | apM Coin | APM |
| 843 | Eminer | EM |
| 844 | Trias Token (new) | TRIAS |
| 845 | Zigcoin | ZIG |
| 846 | Equalizer | EQZ |
| 847 | TENA [old] | TENA |
| 848 | Oxbull.tech | OXB |
| 849 | Arcblock | ABT |
| 850 | Bitcoin 2 | BTC2 |
| 851 | Trias (old) | TRY |
| 852 | RioDeFi | RFUEL |
| 853 | ProBit Token | PROB |
| 854 | Bithao | BHAO |
| 855 | Ubiq | UBQ |
| 856 | Curate | XCUR |
| 857 | DeFiner | FIN |
| 858 | Plasma Finance | PPAY |
| 859 | Vanilla Network | VNLA |
| 860 | AMLT | AMLT |
| 861 | K21 | K21 |
| 862 | e-Money | NGM |
| 863 | Gulden | NLG |
| 864 | TrueChain | TRUE |
| 865 | Niftyx Protocol | SHROOM |
| 866 | ZeroSwap | ZEE |
| 867 | GAMB | GMB |
| 868 | Circuits of Value | COVAL |
| 869 | Saito | SAITO |
| 870 | IQeon | IQN |
| 871 | TOWER | TOWER |
| 872 | Cobak Token | CBK |
| 873 | BitForex Token | BF |
| 874 | Agrello | DLT |
| 875 | CONTRACOIN | CTCN |
| 876 | Ghost | GHOST |
| 877 | Observer | OBSR |
| 878 | Origo | OGO |
| 879 | Vidya | VIDYA |
| 880 | Metaverse Dualchain Network Architecture | DNA |
| 881 | Metrix Coin | MRX |
| 882 | Crypterium | CRPT |
| 883 | Folgory Coin | FLG |
| 884 | Egretia | EGT |
| 885 | CyberMiles | CMT |
| 886 | Trabzonspor Fan Token | TRA |
| 887 | Refinable | FINE |
| 888 | Metaverse ETP | ETP |
| 889 | Presearch | PRE |
| 890 | Helmet.insure | HELMET |
| 891 | Howdoo | UDOO |
| 892 | suterusu | SUTER |
| 893 | YAM V3 | YAM |
| 894 | SpaceChain | SPC |
| 895 | Ethereum Push Notification Service | PUSH |
| 896 | POA | POA |
| 897 | Grid+ | GRID |
| 898 | Zap | ZAP |
| 899 | Hydro Protocol | HOT |
| 900 | TrueFeedBack | TFBX |
---
Related: List Of Top Websites On the Internet And Their Founders
---
Top 1000 Cryptocurrencies
---
| No. | Cryptocurrency | Symbol |
| --- | --- | --- |
| 901 | Anchor | ANCT |
| 902 | UnMarshal | MARSH |
| 903 | Vitae | VITAE |
| 904 | CBC.network | CBC |
| 905 | SwftCoin | SWFTC |
| 906 | Achain | ACT |
| 907 | ClinTex CTi | CTI |
| 908 | Opacity | OPCT |
| 909 | Pillar | PLR |
| 910 | Kryll | KRL |
| 911 | Hord | HORD |
| 912 | Diamond | DMD |
| 913 | Monetha | MTH |
| 914 | ZBG Token | ZT |
| 915 | OctoFi | OCTO |
| 916 | Mist | MIST |
| 917 | Oddz | ODDZ |
| 918 | BioPassport Token | BIOT |
| 919 | Tachyon Protocol | IPX |
| 920 | MediShares | MDS |
| 921 | BUX Token | BUX |
| 922 | Whiteheart | WHITE |
| 923 | Insureum | ISR |
| 924 | UniLayer | LAYER |
| 925 | Odyssey | OCN |
| 926 | Maple | MPL |
| 927 | PRCY Coin | PRCY |
| 928 | DECOIN | DTEP |
| 929 | X-CASH | XCASH |
| 930 | Realio Network | RIO |
| 931 | Breezecoin | BRZE |
| 932 | BOScoin | BOS |
| 933 | IG Gold | IGG |
| 934 | Blank Wallet | BLANK |
| 935 | Receive Access Ecosystem | RAE |
| 936 | Opium | OPIUM |
| 937 | Decentr | DEC |
| 938 | Ripio Credit Network | RCN |
| 939 | Lympo | LYM |
| 940 | Caspian | CSP |
| 941 | TurtleCoin | TRTL |
| 942 | Origin Dollar | OUSD |
| 943 | Tranchess | CHESS |
| 944 | MoonSwap | MOON |
| 945 | MahaDAO | MAHA |
| 946 | AnRKey X | $ANRX |
| 947 | AnimalGo | GOM2 |
| 948 | Wagerr | WGR |
| 949 | SmartCash | SMART |
| 950 | PolySwarm | NCT |
| 951 | HAPI | HAPI |
| 952 | AGA Token | AGA |
| 953 | ReapChain | REAP |
| 954 | Zynecoin | ZYN |
| 955 | Ambrosus | AMB |
| 956 | PowerTrade Fuel | PTF |
| 957 | Redpanda Earth | REDPANDA |
| 958 | Orient Walt | HTDF |
| 959 | CyberVein | CVT |
| 960 | ProximaX | XPX |
| 961 | High Performance Blockchain | HPB |
| 962 | Litecoin Cash | LCC |
| 963 | Noku | NOKU |
| 964 | Lamden | TAU |
| 965 | Lympo Market Token | LMT |
| 966 | Monolith | TKN |
| 967 | Viberate | VIB |
| 968 | TenUp | TUP |
| 969 | DATA | DTA |
| 970 | UnlimitedIP | UIP |
| 971 | LinkEye | LET |
| 972 | Apron Network | APN |
| 973 | Tixl | TXL |
| 974 | Xaya | CHI |
| 975 | BinaryX | BNX |
| 976 | YUSRA | YUSRA |
| 977 | ZIMBOCASH | ZASH |
| 978 | HitChain | HIT |
| 979 | ExNetwork Token | EXNT |
| 980 | Blocknet | BLOCK |
| 981 | QuickX Protocol | QCX |
| 982 | Cryptopay | CPAY |
| 983 | DigitalNote | XDN |
| 984 | Gameswap | GSWAP |
| 985 | Autonio | NIOX |
| 986 | ROOBEE | ROOBEE |
| 987 | Mysterium | MYST |
| 988 | Einsteinium | EMC2 |
| 989 | Graphlinq Protocol | GLQ |
| 990 | OST | OST |
| 991 | Hedget | HGET |
| 992 | Covesting | COV |
| 993 | smARTOFGIVING | AOG |
| 994 | TrustVerse | TRV |
| 995 | Safex Token | SFT |
| 996 | IoT Chain | ITC |
| 997 | QLC Chain | QLC |
| 998 | Valor Token | VALOR |
| 999 | Era Swap | ES |
| 1000 | CONUN | CON |
| 1001 | EasyFi | EASY |