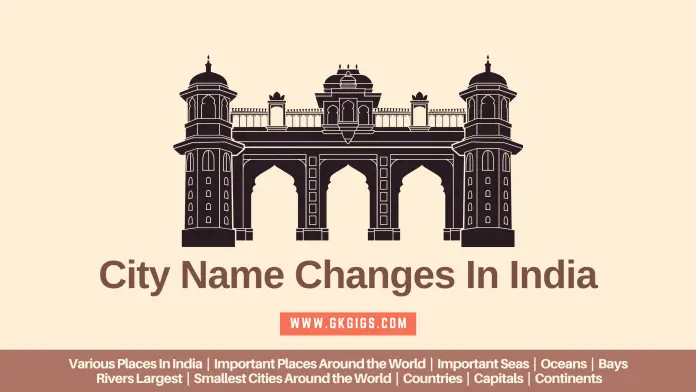 Last Updated: 1 August 2023
In India, the renaming of cities started way back in 1947 following the end of British rule in India. Many Indian states' names were changed during British Raj in India.
After the Independence of India, People from several states proposed changing the names as per their local language and various other factors.
Many changes were controversial, and not all proposed changes were implemented. The proposed name had to be approved by the central government in New Delhi to officially rename it.
We present to you a complete list of city name changes in India that had been renamed from 1947 till date.
List Of City Name Changes In India
---
No.

Past Name

Present Name

Year

1
Alleppey
Alappuzha
1990
2
Allahabad
Prayagraj
2018
3
Amin
Abhimanyupur
2019
4
Aurangabad
Chhatrapati Sambhaji Nagar
2023
5
Banaras
Varanasi
1922
6
Bangalore
Bengaluru
2006
7
Baroda
Vadodara
1974
8
Belgaum
Belagavi
2014
9
Bellary
Ballari
2014
10
Bijapur
Vijayapura
1956
11
Calicut
Kozhikode
~
12
Cannanore
Kannur
1957
13
Chirayinkil
Chirayinkeezhu
2012
14
Chikmagalur
Chikkamagaluru
2014
15
Cochin
Kochi
1996
16
Cuddapah
Kadapa
2005
17
Fort William
↓
Calcutta
Kolkata
2001
18
Gauhati
Guwahati
1983
19
Gulbarga
Kalburgi
2014
20
Gurgaon
Gurugram
2016
21
Hospet
Hosapete
2014
22
Hubli
Hubballi
2014
23
Indravati
↓
Umravti
Amravati
1097
24
Jajesmow
Jajmau
1948
25
Jubbulpore
Jabalpur
1947
26
Jeypore
Jaipur
1727
27
Kanhiyapur
↓
Cawnpore
Kanpur
1948
28
Karnavati
Ahmedabad
1411
29
Kattachakonam
Kesavadasapuram
1949
30
Lakshmanpuri
↓
Lakhanpur
↓
Lakhnau
Lucknow
1528
31
Madras
Chennai
1996
32
Mangalore
Mangaluru
2014
33
Mapuça
Mapusa
1946
34
Mumba
↓
Boa Baia
↓
Bombay
Mumbai
1995
35
Mustafabad
Saraswati Nagar
2016
36
Mysore
Mysuru
2014
37
New Bombay
Navi Mumbai
1995
38
New Raipur
Atal Nagar
2018
39
Ootacamund
Udhagamandalam
1972
40
Orissa
Odisha
2011
41
Osmanabad
Dharashiv
2023
42
Palghat
Palakkad
1866
43
Panjim
Panaji
1961
44
Pataliputra
Patna
490 BCE
45
Pondicherry
Puducherry
2006
46
Poona
Pune
1978
47
Qila Rai Pithora
↓
Siri
↓
Tughluqabad
↓
Jahanpanah
↓
Kotla Firoz Shah
↓
Purana Qila
↓
Indraprastha
↓
Shahjahanabad
Delhi
1648
48
Quilon
Kollam
1949
49
Rajahmundry
Rajamahendravaram
2015
50
Ratnapur
Latur
1905
51
Saket
Ayodhya
1969
52
Shimoga
Shivamogga
2014
53
Tanjore
Thanjavur
1950
54
Thirusirappalli
↓
Trichinopoly
↓
Trichy
Tiruchirappalli
1971
55
Thrishivaperur
↓
Trichur
Thrissur
1949
56
Trivandrum
Thiruvananthapuram
1991
57
Tumkur
Tumakuru
2014
58
Vizagapatam
Visakhapatnam
1979
59
Wheeler Island
Abdul Kalam Island
2015
List Of State Name Changes In India
---
| No. | Past Name | Present Name | Year |
| --- | --- | --- | --- |
| 1 | Andhra State  | Andhra Pradesh | 1956 |
| 2 | Madhya Bharat | Madhya Pradesh | 1959 |
| 3 | Madras State  | Tamil Nadu | 1969 |
| 4 | Mysore State | Karnataka | 1973 |
| 5 | Orissa | Odisha | 2011 |
| 6 | Tipperah | Tripura | 1949 |
| 7 | Travancore-Cochin | Kerala | 1956 |
| 8 | United Provinces | Uttar Pradesh | 1950 |
| 9 | Uttaranchal | Uttarakhand | 2007 |