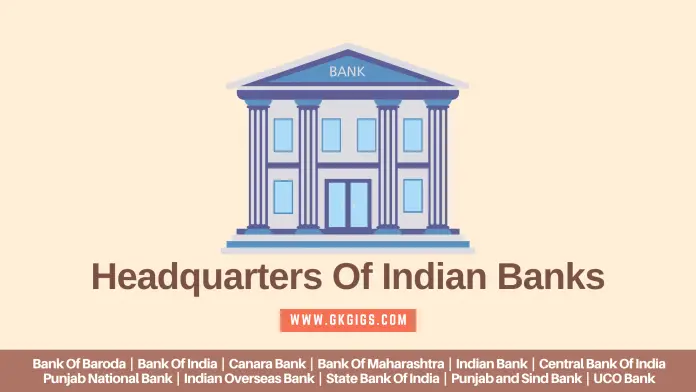 Last Updated: 23 July 2023
Hi There, Are you looking for the list of Indian Banks and their Headquarters?
Well, we got you cover up! Bank CEOs, Chairmans, Headquarters, and Taglines are often asked in different competitive exams having the Banking Syllabus.
Before we move to the main topic, let's first boost our General Knowledge.
10 Public Sector Undertaking Banks (PSUs) were merged into 4 Banks on 1st April 2020
Allahabad Bank merged with Indian Bank
Oriental Bank of Commerce and United Bank of India merged with PNB (The second largest after SBI)
Syndicate Bank merged with Canara Bank
Andhra Bank and Corporation Bank merged with Union Bank of India
Merged Bank Vs Independent Bank
---
| No. | Merged Banks | No. | Independent Banks |
| --- | --- | --- | --- |
| 1 | Bank Of Baroda | 1 | Bank Of India |
| 2 | Canara Bank | 2 | Bank Of Maharashtra |
| 3 | Indian Bank | 3 | Central Bank Of India |
| 4 | Punjab National Bank | 4 | Indian Overseas Bank |
| 5 | State Bank Of India | 5 | Punjab and Sind Bank |
| 6 | Union Bank Of India | 6 | UCO Bank |
Public-Sector Banks
---
| No. | Bank Name | Headquarter |
| --- | --- | --- |
| 1 | Bank of Baroda | Alkapuri |
| 2 | Bank of India | Mumbai |
| 3 | Bank of Maharashtra | Pune |
| 4 | Canara Bank | Bengaluru |
| 5 | Central Bank of India | Mumbai |
| 6 | Corporation Bank | Mangalore |
| 7 | Indian Bank | Chennai |
| 8 | Indian Overseas Bank | Chennai |
| 9 | Punjab and Sind Bank | New Delhi |
| 10 | Punjab National Bank | New Delhi |
| 11 | State Bank of India | Mumbai |
| 12 | UCO Bank | Kolkata |
| 13 | Union Bank of India | Mumbai |
Private-Sector Banks
---
| No. | Bank Name | Headquarter |
| --- | --- | --- |
| 1 | Allahabad Bank | Kolkata |
| 2 | Andhra Bank | Hyderabad |
| 3 | Axis Bank | Mumbai |
| 4 | Bandhan Bank | Kolkata |
| 5 | Catholic Syrian Bank | Thrissur |
| 6 | City Union Bank | Thanjavur |
| 7 | DCB Bank | Mumbai |
| 8 | Dhanlaxmi Bank | Thrissur |
| 9 | Federal Bank | Kochi |
| 10 | HDFC Bank | Mumbai |
| 11 | ICICI Bank | Mumbai |
| 12 | IDBI Bank | Mumbai |
| 13 | IDFC First Bank | Mumbai |
| 14 | IndusInd Bank | Mumbai |
| 15 | Jammu & Kashmir Bank | Srinagar |
| 16 | Karnataka Bank | Mangaluru |
| 17 | Karur Vysya Bank | Karur |
| 18 | Kotak Mahindra Bank | Mumbai |
| 19 | Lakshmi Vilas Bank | Karur |
| 20 | Nainital Bank | Nainital |
| 21 | RBL Bank | Mumbai |
| 22 | South Indian Bank | Thrissur |
| 23 | Syndicate Bank | Manipal |
| 24 | Tamilnad Mercantile Bank | Thoothukudi |
| 25 | Yes Bank | Mumbai |
Regional Rural Banks Banks
---
| No. | Bank Name | Headquarter |
| --- | --- | --- |
| 1 | Andhra Pradesh Grameena Vikas Bank | Warangal |
| 2 | Andhra Pragathi Grameena Bank | Kadapa |
| 3 | Arunachal Pradesh Rural Bank | Itanagar |
| 4 | Aryavart Bank | Lucknow |
| 5 | Assam Gramin Vikash Bank | Guwahati |
| 6 | Bangiya Gramin Vikash Bank | Berhampore |
| 7 | Baroda Gujarat Gramin Bank | Vadodara |
| 8 | Baroda Rajasthan Kshetriya Gramin Bank |  Ajmer |
| 9 | Baroda UP Bank | Gorakhpur |
| 10 | Chaitanya Godavari Gramin Bank | Guntur |
| 11 | Chhattisgarh Rajya Gramin Bank | Raipur |
| 12 | Dakshin Bihar Gramin Bank | Asochak |
| 13 | Ellaquai Dehati Bank | Srinagar |
| 14 | Himachal Pradesh Gramin Bank | Mandi |
| 15 | Jammu And Kashmir Grameen Bank | New University |
| 16 | Jharkhand Rajya Gramin Bank | Ranchi |
| 17 | Karnataka Gramin Bank | Gandhinagar |
| 18 | Karnataka Vikas Grameena Bank | Dharwad |
| 19 | Kerala Gramin Bank | Malappuram |
| 20 | Madhya Pradesh Gramin Bank | Indore |
| 21 | Madhyanchal Gramin Bank | Sagar |
| 22 | Maharashtra Gramin Bank | Aurangabad |
| 23 | Manipur Rural Bank | Imphal |
| 24 | Meghalaya Rural Bank | Police Bazar |
| 25 | Mizoram Rural Bank | Aizawl |
| 26 | Nagaland Rural Bank | Kohima |
| 27 | Odisha Gramya Bank | Bhubaneswar |
| 28 | Paschim Banga Gramin Bank | Howrah |
| 29 | Prathama UP Gramin Bank | Moradabad |
| 30 | Puduvai Bharathiar Grama Bank | Puducherry |
| 31 | Punjab Gramin Bank | Kapurthala |
| 32 | Rajasthan Marudhara Gramin Bank | Jodhpur |
| 33 | Saptagiri Gramin Bank | Chittoor |
| 34 | Sarva Haryana Gramin Bank | Rohtak |
| 35 | Saurashtra Gramin Bank | Rajkot |
| 36 | Tamil Nadu Grama bank | Salem |
| 37 | Telangana Grameena Bank | Nallakunta |
| 38 | Tripura Gramin Bank | Agartala |
| 39 | Utkal Grameen Bank | Bolangir |
| 40 | Uttar Bihar Gramin Bank | Muzaffarpur |
| 41 | Uttarakhand Gramin Bank | Dehradun |
| 42 | Uttarbanga Kshetriya Gramin Bank | Coochbehar |
| 43 | Vidarbha Konkan Gramin Bank | Nagpur |
Small Finance Banks
---
| No. | Bank Name | Headquarter |
| --- | --- | --- |
| 1 | AU Small Finance Bank | Jaipur |
| 2 | Capital Small Finance Bank | Jalandhar |
| 3 | Equitas Small Finance Bank | Chennai |
| 4 | ESAF Small Finance Bank | Thrissur |
| 5 | Fincare Small Finance Bank | Bengaluru |
| 6 | Jana Small Finance Bank | Bengaluru |
| 7 | North East Small Finance Bank | Guwahati |
| 8 | Suryoday Small Finance Bank | Navi Mumbai |
| 9 | Ujjivan Small Finance Bank | Bangalore |
| 10 | Utkarsh Small Finance Bank | Varanasi |
Payments Banks
---
| No. | Bank Name | Headquarter |
| --- | --- | --- |
| 1 | Airtel Payments Bank | New Delhi |
| 2 | Fino Payments Bank | Mumbai |
| 3 | India Post Payments Bank | New Delhi |
| 4 | Jio Payments Bank | Mumbai |
| 5 | NSDL Payments Bank | Mumbai |
| 6 | Paytm Payments Bank | Noida |
Indian Financial Institutions
---
| No. | Institution | Headquarter |
| --- | --- | --- |
| 1 | EXIM | Mumbai |
| 2 | NABARD | Mumbai |
| 3 | NHB | New Delhi |
| 4 | SIDBI | Lucknow |
Fun Facts
The Headquarters of the Reserve Bank Of India is located at Shahid Bhagat Singh Road, Mumbai (400001)