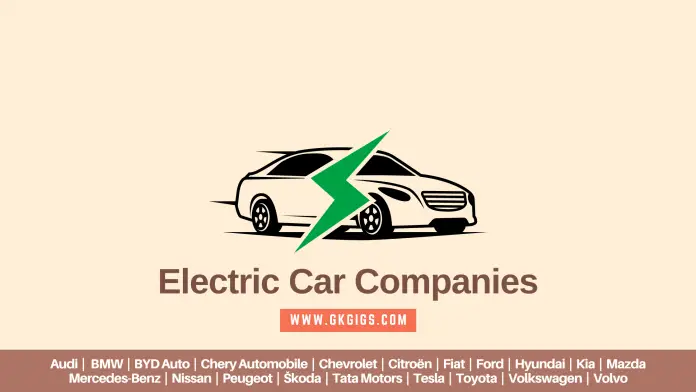 Last Updated: 13 March 2023
Are you looking for a list of Electric Car Companies with Car Models?
You came to the right place! In this article, you'll find a list of Battery-Electric Vehicles that are mass-produced and sold worldwide.
The list only includes Electric Car Companies exclusively using chemical energy stored in Rechargeable Battery Packs, with no secondary source of propulsion (e.g. hydrogen fuel cell, internal combustion engine, etc.).
Facts About Electric Cars
---
Electric car leads to significantly less carbon dioxide pollution from electricity than the CO2 pollution from the oil of a conventional vehicle with an internal combustion engine.
An EV would cost only $1 in energy to travel the same distance as a gallon of gas, which currently averages $3.04.
There were 25,313 charging stations in the U.S. by the end of 2020, triple the 7,340 there were in 2014.
A Tesla Roadster is faster than most sports cars, with an acceleration speed of 0 to 60 in 1.9 seconds. To compare, a Ferrari or Lamborghini accelerates from 0 to 62 in 2.8 to 2.9 seconds.
Nearly half the EVs in the world are in China.
Highway-Capable battery Electric Cars are capable of 100 km/h (62 mph) highway speed.
Electric Automobiles not capable of 100 km/h (62 mph) highway speed:

Aixam e-City/e-Coupe
Arcimoto FUV
Citroën Ami/Opel Rocks-e
Renault Twizy Z.E.
Tazzari Zero
Toyota C+pod
Toyota COMS
Electric Car Companies
---
Aiways
---
| No. | Model | Production | Manufacturer | Origin |
| --- | --- | --- | --- | --- |
| 1 | U5 | 2019 | Aiways | China |
| 2 | U6 | 2021 | Aiways | China |
Aixam
---
| No. | Model | Production | Manufacturer | Origin |
| --- | --- | --- | --- | --- |
| 1 | e-City/e-Coupe | 2017 | Aixam | France |
Arcfox
---
| No. | Model | Production | Manufacturer | Origin |
| --- | --- | --- | --- | --- |
| 1 | FUV | 2019 | Arcimoto | United States |
Arcimoto
---
| No. | Model | Production | Manufacturer | Origin |
| --- | --- | --- | --- | --- |
| 1 | Lite | 2017 | BAIC Group | China |
| 2 | α-S | 2021 | BAIC Group | China |
| 3 | α-T | 2020 | BAIC Group | China |
Aspark
---
| No. | Model | Production | Manufacturer | Origin |
| --- | --- | --- | --- | --- |
| 1 | OWL | 2021 | Aspark | Japan |
Audi
---
| No. | Model | Production | Manufacturer | Origin |
| --- | --- | --- | --- | --- |
| 1 | e-tron | 2018 | Audi | Germany |
| 2 | e-tron GT | 2021 | Audi | Germany |
| 3 | Q2L e-Tron | 2019 | Audi | Germany |
| 4 | Q4 e-tron | 2021 | Audi | Germany |
| 5 | Q5 e-tron | 2021 | Audi | Germany |
Baojun
---
| No. | Model | Production | Manufacturer | Origin |
| --- | --- | --- | --- | --- |
| 1 | E100 | 2017 | SAIC-GM-Wuling | China |
| 2 | E200/Wuling Nano EV | 2018 | SAIC-GM-Wuling | China |
| 3 | E300/KiWi EV | 2020 | SAIC-GM-Wuling | China |
Bestune
---
| No. | Model | Production | Manufacturer | Origin |
| --- | --- | --- | --- | --- |
| 1 | E01 | 2021 | FAW Group | China |
| 2 | NAT | 2021 | FAW Group | China |
| 3 | X40 EV400/EV460 | 2017 | FAW Group | China |
BJEV
---
| No. | Model | Production | Manufacturer | Origin |
| --- | --- | --- | --- | --- |
| 1 | EC3 | 2016 | BAIC Group | China |
| 2 | EC5/Senova X25 | 2019 | BAIC Group | China |
| 3 | EU5/Beijing EU5 | 2018 | BAIC Group | China |
| 4 | EU7/Beijing EU7 | 2019 | BAIC Group | China |
BMW
---
| No. | Model | Production | Manufacturer | Origin |
| --- | --- | --- | --- | --- |
| 1 | i3 | 2013 | BMW | Germany |
| 2 | i3 (G28) | 2022 | BMW | Germany |
| 3 | i4 | 2021 | BMW | Germany |
| 4 | i5 | 2024 | BMW | Germany |
| 5 | i7 | 2022 | BMW | Germany |
| 6 | iX | 2021 | BMW | Germany |
| 7 | iX1 | 2022 | BMW | Germany |
| 8 | iX3 | 2020 | BMW | Germany |
---
Related: Top 150 Automobile Companies & Their Country Of Origin (2023)
---
BrightDrop
---
| No. | Model | Production | Manufacturer | Origin |
| --- | --- | --- | --- | --- |
| 1 | Zevo | 2022 | General Motors | United States |
Buick
---
| No. | Model | Production | Manufacturer | Origin |
| --- | --- | --- | --- | --- |
| 1 | Velite 6 | 2019 | General Motors (SAIC-GM) | United States |
| 2 | Velite 7 | 2020 | General Motors (SAIC-GM) | United States |
BYD
---
| No. | Model | Production | Manufacturer | Origin |
| --- | --- | --- | --- | --- |
| 1 | Dolphin | 2021 | BYD Auto | China |
| 2 | e1 | 2019 | BYD Auto | China |
| 3 | e2 | 2019 | BYD Auto | China |
| 4 | e3 | 2019 | BYD Auto | China |
| 5 | e5 | 2016 | BYD Auto | China |
| 6 | e6 | 2011 | BYD Auto | China |
| 7 | Han | 2020 | BYD Auto | China |
| 8 | Qin | 2012 | BYD Auto | China |
| 9 | Seal | 2022 | BYD Auto | China |
| 10 | Song | 2015 | BYD Auto | China |
| 11 | Song Max | 2017 | BYD Auto | China |
| 12 | T3 | 2015 | BYD Auto | China |
| 13 | Tang | 2015 | BYD Auto | China |
| 14 | Yuan | 2019 | BYD Auto | China |
Cadillac
---
| No. | Model | Production | Manufacturer | Origin |
| --- | --- | --- | --- | --- |
| 1 | Lyriq | 2022 | General Motors | United States |
Changan
---
| No. | Model | Production | Manufacturer | Origin |
| --- | --- | --- | --- | --- |
| 1 | BenBen EV/BenBen E-Star | 2015 | Changan Automobile | China |
| 2 | CS15EV/CS15 E-Pro | 2017 | Changan Automobile | China |
| 3 | CS55 EV | 2020 | Changan Automobile | China |
| 4 | Ruixing EM80 | 2013 | Changan Automobile | China |
Chery
---
| No. | Model | Production | Manufacturer | Origin |
| --- | --- | --- | --- | --- |
| 1 | Arrizo 5e | 2017 | Chery Automobile | China |
| 2 | eQ | 2014 | Chery Automobile | China |
| 3 | eQ1 | 2016 | Chery Automobile | China |
| 4 | eQ2 | 2018 | Chery Automobile | China |
| 5 | eQ5 | 2020 | Chery Automobile | China |
| 6 | QQ3 EV | 2015 | Chery Automobile | China |
| 7 | QQ Ice Cream | 2021 | Chery Automobile | China |
| 8 | Tiggo e | 2019 | Chery Automobile | China |
Chevrolet
---
| No. | Model | Production | Manufacturer | Origin |
| --- | --- | --- | --- | --- |
| 1 | Bolt EUV | 2021 | General Motors | United States |
| 2 | Bolt EV | 2016 | General Motors | United States |
| 3 | Menlo | 2020 | General Motors (SAIC-GM) | United States |
| 4 | Spark EV | 2013 | General Motors | United States |
Ciimo
---
| No. | Model | Production | Manufacturer | Origin |
| --- | --- | --- | --- | --- |
| 1 | M-NV | 2021 | Dongfeng Honda | China-Japan |
| 2 | X-NV | 2020 | Dongfeng Honda | China-Japan |
Citroën
---
| No. | Model | Production | Manufacturer | Origin |
| --- | --- | --- | --- | --- |
| 1 | Ami/Opel Rocks-e | 2020 | Stellantis | France |
| 2 | ë-Berlingo | 2021 | Stellantis | France |
| 3 | ë-C4 | 2021 | Stellantis | France |
| 4 | ë-C4 X | 2022 | Stellantis | France |
| 5 | ë-Jumper/Relay | 2021 | Stellantis | France |
| 6 | ë-Jumpy/Dispatch/SpaceTourer | 2021 | Stellantis | France |
---
Related: Fuel Tank Capacity Of All Cars Worldwide (2023 Updated)
---
Coda
---
| No. | Model | Production | Manufacturer | Origin |
| --- | --- | --- | --- | --- |
| 1 | Coda Sedan | 2012 | Coda Automotive | United States |
Cupra
---
| No. | Model | Production | Manufacturer | Origin |
| --- | --- | --- | --- | --- |
| 1 | Born | 2021 | SEAT | Spain |
Dacia
---
| No. | Model | Production | Manufacturer | Origin |
| --- | --- | --- | --- | --- |
| 1 | Spring Electric | 2021 | Dacia/Renault | Romania |
Denza
---
| No. | Model | Production | Manufacturer | Origin |
| --- | --- | --- | --- | --- |
| 1 | EV/400/500 | 2014 | Denza | China |
| 2 | X | 2019 | Denza | China |
Dongfeng
---
| No. | Model | Production | Manufacturer | Origin |
| --- | --- | --- | --- | --- |
| 1 | Aeolus EX1 | 2019 | Dongfeng Motor | China |
| 2 | Aeolus Yixuan | 2019 | Dongfeng Motor | China |
| 3 | EM13 | 2018 | Dongfeng Motor | China |
| 4 | Fengon E1 | 2019 | DFSK Motor | China |
| 5 | Fengon E3/Seres E3 | 2019 | DFSK Motor | China |
| 6 | Fengshen A60 EV/Aeolus E70 | 2015 | Dongfeng Motor | China |
| 7 | Fengxing T1 | 2019 | Dongfeng Liuzhou Motor | China |
| 8 | Ruitaite EM10 | 2012 | Dongfeng Motor | China |
| 9 | Sokon EC31/EC35/EC36 | 2018 | DFSK Motor | China |
DS
---
| No. | Model | Production | Manufacturer | Origin |
| --- | --- | --- | --- | --- |
| 1 | 3 Crossback E-Tense | 2019 | Stellantis | France |
Enovate
---
| No. | Model | Production | Manufacturer | Origin |
| --- | --- | --- | --- | --- |
| 1 | ME5 | 2021 | Enovate | China |
| 2 | ME7 | 2019 | Enovate | China |
Everus
---
| No. | Model | Production | Manufacturer | Origin |
| --- | --- | --- | --- | --- |
| 1 | VE-1 | 2019 | Guangqi Honda | China-Japan |
Farizon
---
| No. | Model | Production | Manufacturer | Origin |
| --- | --- | --- | --- | --- |
| 1 | E5/E5L | 2018 | Farizon Auto | China |
Fiat
---
| No. | Model | Production | Manufacturer | Origin |
| --- | --- | --- | --- | --- |
| 1 | 500e | 2013 | Fiat Chrysler Automobiles | Italy |
| 2 | e-Ducato | 2021 | Stellantis | Italy |
| 3 | e-Scudo/e-Ulysse | 2022 | Stellantis | Italy |
| 4 | New 500 | 2020 | Stellantis | Italy |
Fisker
---
| No. | Model | Production | Manufacturer | Origin |
| --- | --- | --- | --- | --- |
| 1 | Ocean | 2022 | Fisker Inc. | United States |
Ford
---
| No. | Model | Production | Manufacturer | Origin |
| --- | --- | --- | --- | --- |
| 1 | E-Transit | 2021 | Ford | United States |
| 2 | F-150 Lightning | 2022 | Ford | United States |
| 3 | Focus Electric | 2011 | Ford | United States |
| 4 | Mustang Mach-E | 2020 | Ford | United States |
| 5 | Ranger EV | 1998 | Ford | United States |
| 6 | Territory EV | 2019 | JMC-Ford | United States |
| 7 | Th!nk | 2000 | Ford | United States |
GAC
---
| No. | Model | Production | Manufacturer | Origin |
| --- | --- | --- | --- | --- |
| 1 | Aion LX | 2019 | GAC Group | China |
| 2 | Aion S | 2019 | GAC Group | China |
| 3 | Aion V | 2020 | GAC Group | China |
Geely
---
| No. | Model | Production | Manufacturer | Origin |
| --- | --- | --- | --- | --- |
| 1 | Emgrand EV | 2014 | Geely Auto | China |
| 2 | Emgrand GSe | 2018 | Geely Auto | China |
| 3 | Geometry A | 2019 | Geely Auto | China |
| 4 | Geometry C | 2019 | Geely Auto | China |
Genesis
---
| No. | Model | Production | Manufacturer | Origin |
| --- | --- | --- | --- | --- |
| 1 | Electrified G80 | 2021 | Genesis Motor | South Korea |
| 2 | Electrified GV70 | 2022 | Genesis Motor | South Korea |
| 3 | GV60 | 2021 | Genesis Motor | South Korea |
GMC
---
| No. | Model | Production | Manufacturer | Origin |
| --- | --- | --- | --- | --- |
| 1 | Hummer EV | 2022 | General Motors | United States |
Great Wall
---
| No. | Model | Production | Manufacturer | Origin |
| --- | --- | --- | --- | --- |
| 1 | Wingle 7 EV | 2018 | Great Wall Motors | China |
Higer
---
| No. | Model | Production | Manufacturer | Origin |
| --- | --- | --- | --- | --- |
| 1 | H4E | 2016 | Higer | China |
HiPhi
---
| No. | Model | Production | Manufacturer | Origin |
| --- | --- | --- | --- | --- |
| 1 | X | 2020 | HiPhi | China |
Honda
---
| No. | Model | Production | Manufacturer | Origin |
| --- | --- | --- | --- | --- |
| 1 | Clarity Electric | 2017 | Honda | Japan |
| 2 | e | 2020 | Honda | Japan |
| 3 | e:NS1 | 2022 | Honda (Dongfeng Honda) | Japan |
| 4 | e:NP1 | 2022 | Honda (Guangqi Honda) | Japan |
| 5 | EV Plus | 1997 | Honda | Japan |
| 6 | Fit EV | 2012 | Honda | Japan |
---
Related: List Of Motorcycle CC Chart, Torque, & Power List (2023 Updated)
---
Hongqi
---
| No. | Model | Production | Manufacturer | Origin |
| --- | --- | --- | --- | --- |
| 1 | E-HS3 | 2018 | FAW Group | China |
| 2 | E-HS9 | 2020 | FAW Group | China |
| 3 | E-QM5 | 2022 | FAW Group | China |
Hyundai
---
| No. | Model | Production | Manufacturer | Origin |
| --- | --- | --- | --- | --- |
| 1 | Ioniq 5 | 2021 | Hyundai | South Korea |
| 2 | Ioniq 6 | 2022 | Hyundai | South Korea |
| 3 | Ioniq Electric | 2016 | Hyundai | South Korea |
| 4 | Kona Electric | 2019 | Hyundai | South Korea |
| 5 | Lafesta EV | 2019 | Hyundai | South Korea |
| 6 | Mistra EV | 2021 | Hyundai | South Korea |
| 7 | Porter2 Electric | 2019 | Hyundai | South Korea |
IM
---
| No. | Model | Production | Manufacturer | Origin |
| --- | --- | --- | --- | --- |
| 1 | L7 | 2022 | IM Motors | China |
JAC
---
| No. | Model | Production | Manufacturer | Origin |
| --- | --- | --- | --- | --- |
| 1 | iC5/E J7/Sehol E50A | 2019 | JAC Motors | China |
| 2 | iEV6E/Sehol E10X | 2021 | JAC Motors | China |
| 3 | iEV7S/Sehol E20X | 2017 | JAC Motors | China |
| 4 | iEVA50 | 2018 | JAC Motors | China |
| 5 | iEVS4 | 2019 | JAC Motors | China |
| 6 | J3 EV | 2020 | JAC Motors | China |
Jaguar
---
| No. | Model | Production | Manufacturer | Origin |
| --- | --- | --- | --- | --- |
| 1 | I-Pace | 2018 | Jaguar Land Rover | United Kingdom |
Jetour
---
| No. | Model | Production | Manufacturer | Origin |
| --- | --- | --- | --- | --- |
| 1 | X70S EV | 2019 | Chery Automobile | China |
Kandi
---
| No. | Model | Production | Manufacturer | Origin |
| --- | --- | --- | --- | --- |
| 1 | K23 | 2012 | Kandi | China |
| 2 | K27 | 2012 | Kandi | China |
Kia
---
| No. | Model | Production | Manufacturer | Origin |
| --- | --- | --- | --- | --- |
| 1 | Bongo EV | 2020 | Kia | South Korea |
| 2 | EV6 | 2021 | Kia | South Korea |
| 3 | K3 EV | 2021 | Kia | South Korea |
| 4 | Niro EV/e-Niro | 2018 | Kia | South Korea |
| 5 | Ray EV | 2012 | Kia | South Korea |
| 6 | Soul EV | 2014 | Kia | South Korea |
Leapmotor
---
| No. | Model | Production | Manufacturer | Origin |
| --- | --- | --- | --- | --- |
| 1 | C11 | 2020 | Leapmotor | China |
| 2 | S01 | 2019 | Leapmotor | China |
| 3 | T03 | 2020 | Leapmotor | China |
Lexus
---
| No. | Model | Production | Manufacturer | Origin |
| --- | --- | --- | --- | --- |
| 1 | RZ | 2022 | Toyota | Japan |
| 2 | UX 300e | 2020 | Toyota | Japan |
Lightyear
---
| No. | Model | Production | Manufacturer | Origin |
| --- | --- | --- | --- | --- |
| 1 | 0 | 2022 | Lightyear | Netherlands |
Lordstown
---
| No. | Model | Production | Manufacturer | Origin |
| --- | --- | --- | --- | --- |
| 1 | Endurance | 2022 | Lordstown Motors | United States |
Lotus
---
| No. | Model | Production | Manufacturer | Origin |
| --- | --- | --- | --- | --- |
| 1 | Eletre | 2023 | Lotus Cars | United Kingdom |
| 2 | Evija | 2023 | Lotus Cars | United Kingdom |
Lucid
---
| No. | Model | Production | Manufacturer | Origin |
| --- | --- | --- | --- | --- |
| 1 | Air | 2021 | Lucid Motors | United States |
Mahindra
---
| No. | Model | Production | Manufacturer | Origin |
| --- | --- | --- | --- | --- |
| 1 | e2o Plus | 2016 | Mahindra & Mahindra | India |
| 2 | eVerito | 2016 | Mahindra & Mahindra | India |
| 3 | Treo | 2018 | Mahindra & Mahindra | India |
| 4 | XUV400 | 2023 | Mahindra & Mahindra | India |
Maple
---
| No. | Model | Production | Manufacturer | Origin |
| --- | --- | --- | --- | --- |
| 1 | 30X/Geometry EX3 | 2020 | Geely Auto | China |
| 2 | 80V | 2020 | Geely Auto | China |
Maxus
---
| No. | Model | Production | Manufacturer | Origin |
| --- | --- | --- | --- | --- |
| 1 | EG10 | 2016 | SAIC Motor | China |
| 2 | Euniq 5 | 2019 | SAIC Motor | China |
| 3 | Euniq 6 EV | 2021 | SAIC Motor | China |
| 4 | T90 EV | 2021 | SAIC Motor | China |
Mazda
---
| No. | Model | Production | Manufacturer | Origin |
| --- | --- | --- | --- | --- |
| 1 | CX-30 EV | 2021 | Mazda | Japan |
| 2 | MX-30 | 2020 | Mazda | Japan |
Mercedes-Benz
---
No.
Model
Production
Manufacturer
Origin
1
EQA
2021
Mercedes-Benz Group
Germany
2
EQB
2021
Mercedes-Benz Group
Germany
3
EQC
2021
Mercedes-Benz Group
Germany
4
EQE
2022
Mercedes-Benz Group
Germany
5
EQS
2021
Mercedes-Benz Group
Germany
6
EQS SUV
2022
Mercedes-Benz Group
Germany
7
EQV
2020
Mercedes-Benz Group
Germany
8
B-Class
Electric
2014
Daimler AG
Germany
---
Related: 100 Facts About Elon Musk You Never Heard On The Internet
---
MG
---
| No. | Model | Production | Manufacturer | Origin |
| --- | --- | --- | --- | --- |
| 1 | ZS EV | 2018 | SAIC Motor | China |
Mini
---
| No. | Model | Production | Manufacturer | Origin |
| --- | --- | --- | --- | --- |
| 1 | Electric/Cooper SE | 2020 | Mini/BMW | United Kingdom |
Mitsubishi
---
| No. | Model | Production | Manufacturer | Origin |
| --- | --- | --- | --- | --- |
| 1 | Airtrek | 2022 | GAC Mitsubishi | Japan |
| 2 | eK X EV | 2022 | NMKV | Japan |
| 3 | i-MiEV | 2009 | Mitsubishi Motors | Japan |
| 4 | Minicab MiEV | 2011 | Mitsubishi Motors | Japan |
Modern
---
| No. | Model | Production | Manufacturer | Origin |
| --- | --- | --- | --- | --- |
| 1 | IN | 2021 | Beijing Automobile Works | China |
NAC
---
| No. | Model | Production | Manufacturer | Origin |
| --- | --- | --- | --- | --- |
| 1 | Chang Da H9 | 2017 | Nanjing Automobile-SAIC Motor | China |
Neta
---
| No. | Model | Production | Manufacturer | Origin |
| --- | --- | --- | --- | --- |
| 1 | N01 | 2018 | Hozon Auto | China |
| 2 | U | 2020 | Hozon Auto | China |
| 3 | V | 2020 | Hozon Auto | China |
Nio
---
| No. | Model | Production | Manufacturer | Origin |
| --- | --- | --- | --- | --- |
| 1 | EC6 | 2020 | Nio | China |
| 2 | EP9 | 2016 | Nio | China |
| 3 | ES6 | 2019 | Nio | China |
| 4 | ES8 | 2018 | Nio | China |
| 5 | ET7 | 2021 | Nio | China |
Nissan
---
| No. | Model | Production | Manufacturer | Origin |
| --- | --- | --- | --- | --- |
| 1 | Ariya | 2021 | Nissan | Japan |
| 2 | e-NV200 | 2014 | Nissan | Japan |
| 3 | Hypermini | 1999 | Nissan | Japan |
| 4 | Leaf | 2010 | Nissan | Japan |
| 5 | Sakura | 2022 | NMKV | Japan |
| 6 | Sylphy Z.E. | 2018 | NMKV | Japan |
Opel
---
| No. | Model | Production | Manufacturer | Origin |
| --- | --- | --- | --- | --- |
| 1 | Ampera-e | 2017 | PSA Group | Germany |
| 2 | Combo-e | 2021 | Stellantis | Germany/United Kingdom |
| 3 | Corsa-e | 2019 | Stellantis | Germany/United Kingdom |
| 4 | Mokka-e | 2020 | Stellantis | Germany/United Kingdom |
| 5 | Movano-e | 2021 | Stellantis | Germany/United Kingdom |
| 6 | Vivaro/Zafira-e | 2021 | Stellantis | Germany/United Kingdom |
ORA
---
| No. | Model | Production | Manufacturer | Origin |
| --- | --- | --- | --- | --- |
| 1 | iQ | 2018 | Great Wall Motors | China |
| 2 | Black Cat/Heimao | 2019 | Great Wall Motors | China |
| 3 | Cherry Cat/Yingtaomao | 2022 | Great Wall Motors | China |
| 4 | Good Cat/Haomao | 2020 | Great Wall Motors | China |
| 5 | White Cat | 2020 | Great Wall Motors | China |
Oushang
---
| No. | Model | Production | Manufacturer | Origin |
| --- | --- | --- | --- | --- |
| 1 | A600 EV | 2019 | Changan Automobile | China |
Qiantu
---
| No. | Model | Production | Manufacturer | Origin |
| --- | --- | --- | --- | --- |
| 1 | K50 | 2017 | Qiantu Motor | China |
Peugeot
---
| No. | Model | Production | Manufacturer | Origin |
| --- | --- | --- | --- | --- |
| 1 | 106 Électrique | 1996 | PSA Group | France |
| 2 | e-208 | 2019 | Stellantis | France |
| 3 | e-2008 | 2020 | Stellantis | France |
| 4 | e-Boxer | 2021 | Stellantis | France |
| 5 | e-Rifter | 2021 | Stellantis | France |
| 6 | e-Traveller | 2021 | Stellantis | France |
Pininfarina
---
| No. | Model | Production | Manufacturer | Origin |
| --- | --- | --- | --- | --- |
| 1 | Battista | 2022 | Automobili Pininfarina | Germany/Italy |
Polestar
---
| No. | Model | Production | Manufacturer | Origin |
| --- | --- | --- | --- | --- |
| 1 | 2 | 2020 | Volvo Cars | Sweden |
Porsche
---
| No. | Model | Production | Manufacturer | Origin |
| --- | --- | --- | --- | --- |
| 1 | Taycan | 2019 | Porsche | Germany |
Renault
---
| No. | Model | Production | Manufacturer | Origin |
| --- | --- | --- | --- | --- |
| 1 | City K-ZE | 2019 | Renault | France |
| 2 | Kangoo Z.E. | 2011 | Renault | France |
| 3 | Master Z.E. | 2018 | Renault | France |
| 4 | E-Tech Electric | 2022 | Renault | France |
| 5 | Twingo Z.E. | 2020 | Renault | France |
| 6 | Twizy Z.E. | 2012 | Renault | France |
| 7 | Zoe | 2012 | Renault | France |
REVA
---
| No. | Model | Production | Manufacturer | Origin |
| --- | --- | --- | --- | --- |
| 1 | REVAi/G-Wiz i | 2001 | Reva Electric Car Company | India |
Rimac
---
| No. | Model | Production | Manufacturer | Origin |
| --- | --- | --- | --- | --- |
| 1 | Nevera | 2022 | Rimac Automobili | Croatia |
Rivian
---
| No. | Model | Production | Manufacturer | Origin |
| --- | --- | --- | --- | --- |
| 1 | R1S | 2022 | Rivian | United States |
| 2 | R1T | 2022 | Rivian | United States |
Roewe
---
| No. | Model | Production | Manufacturer | Origin |
| --- | --- | --- | --- | --- |
| 1 | Clever | 2020 | SAIC Motor | China |
| 2 | E50 | 2012 | SAIC Motor | China |
| 3 | Ei5/MG 5 EV/MG EP | 2017 | SAIC Motor | China |
| 4 | Ei6 | 2016 | SAIC Motor | China |
| 5 | Ei6 Max | 2020 | SAIC Motor | China |
| 6 | ER6 | 2020 | SAIC Motor | China |
| 7 | ERX5 | 2019 | SAIC Motor | China |
| 8 | Marvel R | 2018 | SAIC Motor | China |
| 9 | Marvel X | 2020 | SAIC Motor | China |
SEAT
---
| No. | Model | Production | Manufacturer | Origin |
| --- | --- | --- | --- | --- |
| 1 | e-Mii | 2020 | SEAT | Spain |
Sehol
---
| No. | Model | Production | Manufacturer | Origin |
| --- | --- | --- | --- | --- |
| 1 | E20X | 2018 | JAC Motors | China |
| 2 | X4 | 2020 | JAC Motors | China |
Singulato
---
| No. | Model | Production | Manufacturer | Origin |
| --- | --- | --- | --- | --- |
| 1 | iS6 | 2019 | Singulato | China |
Škoda
---
| No. | Model | Production | Manufacturer | Origin |
| --- | --- | --- | --- | --- |
| 1 | Citigo iV | 2019 | Škoda Auto | Czech Republic |
| 2 | Enyaq | 2020 | Škoda Auto | Czech Republic |
Smart
---
| No. | Model | Production | Manufacturer | Origin |
| --- | --- | --- | --- | --- |
| 1 | #1 | 2022 | Smart Automobile | Germany |
| 2 | ED | 2007 | Daimler AG | Germany |
| 3 | EQ forfour | 2017 | Daimler AG | Germany |
| 4 | EQ fortwo | 2017 | Daimler AG | Germany |
SRM
---
| No. | Model | Production | Manufacturer | Origin |
| --- | --- | --- | --- | --- |
| 1 | Shineray X30LEV | 2018 | Shineray Group | China |
SsangYong
---
| No. | Model | Production | Manufacturer | Origin |
| --- | --- | --- | --- | --- |
| 1 | Korando e-Motion | 2022 | SsangYong Motor | South Korea |
Subaru
---
| No. | Model | Production | Manufacturer | Origin |
| --- | --- | --- | --- | --- |
| 1 | Solterra | 2022 | Subaru | Japan |
Tata Motors
---
| No. | Model | Production | Manufacturer | Origin |
| --- | --- | --- | --- | --- |
| 1 | Nexon EV | 2020 | Tata Motors Cars | India |
| 2 | Tiago EV | 2023 | Tata Motors Cars | India |
| 3 | Tigor EV | 2019 | Tata Motors Cars | India |
---
Related: List Of All Top Companies And Their CEO (Indian + International)
---
Tazzari
---
| No. | Model | Production | Manufacturer | Origin |
| --- | --- | --- | --- | --- |
| 1 | Zero | 2009 | Tazzari Group | Italy |
Tesla
---
| No. | Model | Production | Manufacturer | Origin |
| --- | --- | --- | --- | --- |
| 1 | Model 3 | 2017 | Tesla, Inc. | United States |
| 2 | Model S | 2012 | Tesla, Inc. | United States |
| 3 | Model X | 2015 | Tesla, Inc. | United States |
| 4 | Model Y | 2020 | Tesla, Inc. | United States |
| 5 | Roadster | 2008 | Tesla, Inc. | United States |
Toyota
---
| No. | Model | Production | Manufacturer | Origin |
| --- | --- | --- | --- | --- |
| 1 | bZ3 | 2023 | FAW Toyota | China-Japan |
| 2 | bZ4X | 2022 | Toyota | Japan |
| 3 | C-HR EV | 2020 | GAC Toyota | China-Japan |
| 4 | C+pod | 2021 | Toyota | Japan |
| 5 | COMS | 2000 | Toyota Auto Body | Japan |
| 6 | eQ/Scion iQ EV | 2011 | Toyota | Japan |
| 7 | IZOA EV | 2020 | FAW Toyota | China-Japan |
| 8 | Proace City Electric | 2021 | Toyota | Japan |
| 9 | Proace Electric | 2021 | Toyota | Japan |
| 10 | RAV4 EV | 2012 | Toyota | Japan |
Trumpchi
---
| No. | Model | Production | Manufacturer | Origin |
| --- | --- | --- | --- | --- |
| 1 | GE3 | 2017 | GAC Group | China |
| 2 | GS4 EV | 2016 | GAC Group | China |
Volkswagen
---
| No. | Model | Production | Manufacturer | Origin |
| --- | --- | --- | --- | --- |
| 1 | e-Crafter | 2018 | Volkswagen | Germany |
| 2 | e-Golf | 2014 | Volkswagen | Germany |
| 3 | e-Lavida | 2019 | Volkswagen | Germany |
| 4 | e-Up! | 2013 | Volkswagen | Germany |
| 5 | ID.3 | 2020 | Volkswagen | Germany |
| 6 | ID.4 | 2020 | Volkswagen | Germany |
| 7 | ID.5 | 2022 | Volkswagen | Germany |
| 8 | ID.6 | 2021 | Volkswagen | Germany |
| 9 | ID. Buzz | 2022 | Volkswagen | Germany |
Volvo
---
| No. | Model | Production | Manufacturer | Origin |
| --- | --- | --- | --- | --- |
| 1 | C30 Electric | 2010 | Volvo Cars | Sweden |
| 2 | C40 Recharge | 2021 | Volvo Cars | Sweden |
| 3 | XC40 Recharge | 2020 | Volvo Cars | Sweden |
VinFast
---
| No. | Model | Production | Manufacturer | Origin |
| --- | --- | --- | --- | --- |
| 1 | VF e34 | 2021 | VinFast | Vietnam |
| 2 | VF 8 | 2021 | VinFast | Vietnam |
| 3 | VF 9 | 2021 | VinFast | Vietnam |
Weltmeister
---
| No. | Model | Production | Manufacturer | Origin |
| --- | --- | --- | --- | --- |
| 1 | E5 | 2021 | Weltmeister | China |
| 2 | EX5 | 2018 | Weltmeister | China |
| 3 | EX6 | 2020 | Weltmeister | China |
| 4 | W6 | 2021 | Weltmeister | China |
Wuling
---
| No. | Model | Production | Manufacturer | Origin |
| --- | --- | --- | --- | --- |
| 1 | Air EV | 2022 | SAIC-GM-Wuling | China |
| 2 | Hongguang Mini EV | 2020 | SAIC-GM-Wuling | China |
XPeng
---
| No. | Model | Production | Manufacturer | Origin |
| --- | --- | --- | --- | --- |
| 1 | G3/Identity X | 2018 | XPeng | China |
| 2 | G9 | 2022 | XPeng | China |
| 3 | P5 | 2021 | XPeng | China |
| 4 | P7 | 2020 | XPeng | China |
Zeekr
---
| No. | Model | Production | Manufacturer | Origin |
| --- | --- | --- | --- | --- |
| 1 | 001 | 2021 | Geely Auto | China |
Zinoro
---
| No. | Model | Production | Manufacturer | Origin |
| --- | --- | --- | --- | --- |
| 1 | 60H | 2017 | BMW Brilliance | China-Germany |
Zotye
---
| No. | Model | Production | Manufacturer | Origin |
| --- | --- | --- | --- | --- |
| 1 | E200 | 2016 | Zotye | China |