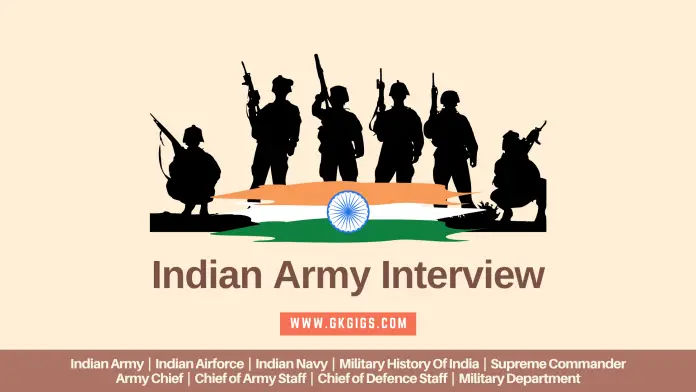 Last Updated: 20 July 2023
If you're looking for the Indian Army Interview Questions and Answers, You came to the right place!
In this article, You'll find 100 Indian Army Interview Questions And Answers that Every Aspirant Must Know to Crack the Interview.
From Basic Questions to Advanced Questions, all Important Multiple Choice Questions are collected from various sources.
We Wish You a Great Journey ahead to Join the Indian Army and Serve the Nation.
Indian Army Interview Questions And Answers
---
1. Where is the Headquarters of the Indian Army?
a) New Delhi
b) Mumbai
c) Nagpur
d) Kolkata
2. What is the Motto of the Indian Army?
a) Service Before Self
b) Qadam Qadam Badhaye
c) Nabha Sparsham Deeptam
d) Self Service Before
3. Who is the Supreme Commander of the Indian Army?
a) The Prime Minister of India
b) Vice Chief of the Army Staff
c) The President of India
d) Chief of Defence Staff
4. When was the Indian Army founded?
a) 2 April 1895
b) 1 April 1895
c) 5 June 1895
d) 1 November 1895
5. What is the Highest Military Honour of India?
a) Param Vir Chakra
b) Bharat Ratna
c) Maha Vir Chakra
d) Padma Bhushan
6. How many Commands are there in the Indian Army?
a) 7
b) 6
c) 5
d) 3
List Of Indian Army Commands
7. How many Commands are there in the Indian Air Force?
a) 1
b) 7
c) 4
d) 8
List Of Indian Air Force Commands
8. How many Commands are there in the Indian Navy?
a) 2
b) 7
c) 3
d) 10
List Of Indian Navy Commands
9. Who was the First Recipient of the Param Vir Chakra?
a) Major Sanjay Kumar
b) Major Naib Subedar
c) Major Somnath Sharma
d) Major Yogendra Singh
10. How many Gallantry Awards are in India?
a) 4
b) 5
c) 2
d) 6
---
Related: Manipur General Knowledge Questions And Answers
---
11. Who Heads the Planning Commission of India?
a) The President of India
b) The Vice President of India
c) The Prime Minister of India
d) Ministry of Defence
12. When was Param Vir Chakra First Introduced?
a) 26th February 1950
b) 26th January 1950
c) 26th December 1950
d) 15th August 1950
13. What is the Full Form of INS?
a) Indian Navy Ship
b) Inertial Navigation System
c) Indian Navigation System
d) Inertial Navigation Ship
14. Who is the Father of the Indian Army?
a) Read Stringer
b) Major Gibraltar
c) Stringer Lawrence
d) Subroto Mukerjee
15. Name the Nuclear-Powered Submarine of India?
a) INS Chakra
b) INS Arihant
c) INS Shishumar
d) INS Kalvari
16. What is the Full Form of INSAS?
a) INdian Small Army System
b) INdian Small Arms System
c) Inactive Status System
d) INdian Self Arm Sandbags 
17. Which Army Rank is equivalent to NATO Code OF-10?
a) General
b) Lieutenant General
c) Field Marshal
d) Brigadier
18. How many Stars does Captain have?
a) Four Five-Pointed Stars
b) Three Five-Pointed Stars
c) Two Five-Pointed Stars
d) Six Five-Pointed Stars
19. How many Rank Chevron does Havildar have?
a) One Rank Chevrons
b) Four Rank Chevrons
c) Two Rank Chevrons
d) Three Rank Chevrons
20. What is the Retirement Age of Sepoy?
a) 25 Years Of Service or Age 66
b) 30 Years Of Service or Age 60
c) 23 Years Of Service or Age 42
d) 19 Years Of Service or Age 42
---
Related: Council Of Ministers Of India (All 28 Indian States)
---
21. Which Organization Manufactures Arms and Weapons for the Indian Army?
a) OFB
b) OCC
c) OFA
d) BFO
22. How many Ranks of Risaldars are there in the Indian Army?
a) 3
b) 2
c) 1
d) 5
23. What is the Full Form of LoC?
a) Letter of Credit
b) Line of Control
c) Line of Code
d) Library of Congress
24. What is the India-Pakistan Border Line called?
a) Zero Line
b) Cyril Line
c) Radoliff Line
d) Radcliffe Line
25. What is the India-China Border Line called?
a) Marginal Line 
b) Mannerheim Line
c) McMahon Line
d) Medicine Line
26. What is the name of the Wheel in the middle of the Indian Flag?
a) Veer Wheel
b) Ashoka Chakra
c) Spoke Chakra
d) Ashoka Wheel
27. How many Spokes are on the Ashoka Chakra?
a) 34
b) 24
c) 12
d) 36
28. What does the word "Tiranga" mean?
a) Tricolour
b) Dual Colour
c) Saffron
d) Indian Flag
29. What is "AGNI"?
a) Missile
b) Granite
c) Pistol
d) Caliber
30. BrahMos Aerospace is a Joint Venture between India and Which Country?
a) Nepal
b) Russia
c) Myanmar
d) China
---
Related: Ladakh Static GK Questions And Answers (Union Territory)
---
31. What is SRBM developed by DRDO?
a) Short-Range Ballistic Memory
b) Static-Random Ballistic Missile
c) Short-Range Ballistic Missile
d) Scientific-Range Ballistic Missile
32. What is the Caliber Size of "Glock 19"?
a) 19mm
b) 12mm
c) 45mm
d) 29mm
33. What do SMGs mean?
a) Special Machine Guns
b) Sub Military Guns
c) Superior Mesenteric Guns
d) SubMachine Guns
34. SMGs have the same Caliber Size with which Gun?
a) Assault rifles
b) Sniper rifles
c) Shotgun
d) Handgun
35. Where is National Defence Academy located?
a) Uttarakhand
b) Pune
c) Kerala
d) Delhi
36. When was DRDO Rustom used for the First Time?
a) 2005
b) 2009
c) 2020
d)2019
37. Which Northeast State has the Eastern Air Command?
a) Meghalaya
b) Tripura
c) Assam
d) Arunachal Pradesh
38. Which is the Smallest unit of the Indian Army?
a) Platoon
b) Battalion
c) Section
d) Corps
39. Who is the Only Officer to Achieve "Marshal of the Indian Air Force"?
a) E. M. S. Namboodiripad
b) Arjan Singh
c) Jigme Wangchuck
d) P. N. Haksar
40. How many years did World War 2 last?
a) 5 Years
b) 6 Years
c) 4 Years
d) 7 Years
---
Related: List Of Dances In India State Wise With GK On Folk Dances
---
41. Which Honorary Rank does M.S Dhoni hold?
a) Lieutenant Colonel
b) Lieutenant
c) Major
d) Captain
42. Who was the First Cricketer to Achieve the Honorary Rank of Lieutenant Colonel?
a) Sachin Tendulkar
b) Sunil Gavaskar
c) Kapil Dev
d) Sourav Ganguly
43. Which Army Rank has only the National Emblem on the Insignia (Badge)?
a) Field Marshal
b) Major
c) Lieutenant General
d) Subedar Major
44. Which is the Highest Rank of the Indian Navy?
a) Admiral
b) Admiral of the Fleet
c) Vice Admiral
d) Rear Admiral
45. Where is the Indian Military Academy situated?
a) Jorhat
b) Kanpur
c) Delhi Cantt
d) Dehradun
46. Which Regiment is the Horse-Mounted Unit of the Indian Army?
a) 61st Cavalry
b) 59th Cavalry
c) 51st Cavalry
d) 71st Cavalry
47. What is the Full Form of HAWS?
a) High Altitude Warfare School
b) Hindustan Aeronautics Warfare School
c) High Altitude Warfare Soldiers
d) High Altitude Warfare System
48. Which is the First Indian Military Base outside its Territory?
a) Gorno-Badakhshan
b) Farkhor Air Base
c) Tajik Air Base
d) Shayrat Airbase
49. Where is the Indian Military Training Team Stationed?
a) Tajikistan
b) Bhutan
c) Madagascar
d) Oman
50. Which Year did the First World War Start?
a) 1918
b) 1945
c) 1916
d) 1914
---
Related: Indian States And Districts List With Administrative Divisions
---
51. When was the First Indo-Pak War?
a) 1947
b) 1946
c) 1948
d) 1945
52. What is the Colour of the Indian army?
a) Gold, Red, and Blue
b) Green, Red, and Black
c) Gold, Red, and Black
d) Yellow, Red, and Black
53. What is the Full Form of COAS?
a) Chief of Army Selection
b) Chief of Army Soldier
c) Chief of Army Staff
d) Chief of Airport Staff
54. What does the Regimental Quick March "Keep Stepping Forward" Translate in Hindi?
a) Aage Badhate Raho
b) Aage March
c) Qadam Qadam Badhaye Ja
d) Aage Badhate Jao
55. When is Army Day Celebrated?
a) 15 January
b) 16 January
c) 26 January
d) 15 February
56. Where is the Indian Army Hall of Fame?
a) New Delhi
b) Leh
c) Srinagar
d) Pune
57. What is the full form of NCC?
a) Non-Cadet Corps
b) Naxa Cadet Corps
c) National Candidate Corps
d) National Cadet Corps
58. When did Kargil War take place?
a) 1997
b) 1998
c) 1999
d) 2000
59. Who was the first Indian Commander-in-Chief of the Indian Army?
a) Gopal Gurunath
b) K. M. Cariappa
c) Rajendrasinhji Jadeja
d) Major Kumaramangalam
60. When was the Indian Air Force founded?
a) 8 October 1933
b) 27 October 1932
c) 8 October 1932
d) 30 October 1934
---
Related: Quiz On Geography Of India And The World (UPSC Syllabus)
---
61. Who's Motto is "Sam No Varunah"?
a) Indian Air Force
b) Indian Navy
c) NCC
d) Indian Arm Force
62. What is the Full Form of CISF?
a) Central Indo Security Force
b) Central Investigation Security Force
c) Central Intelligence Security Force
d) Central Industrial Security Force
63. Who was the last Viceroy of the British Raj?
a) Lord Mountbatten
b) Rajagopalachari
c) Mahatma Gandhi
d) Warren Hastings
64. When was the Indo-Nepal Treaty of Peace and Friendship Signed?
a) 1950
b) 1949
c) 1948
d) 1947
65. Palk Strait is located between India and?
a) Bhutan
b) Nepal
c) Sri Lanka
d) Myanmar
66. Where did the First Five IAF Rafales Arrive?
a) Air Force Station Jalandhar
b) Air Force Station Delhi
c) Air Force Station Ambala
d) Air Force Station Jabalpur
67. What is the Nickname of No. 17 Squadron?
a) Fighter Arrows
b) Golden Arrows
c) Cannon Salute
d) Cannon Arrows
68. Where was the First Stop of the 2 Stages of IAF Rafales from France to India?
a) Turkey
b) Iraq
c) Abu Dhabi
d) Lebanon
69. What is the Full Form of ADGPI?
a) Additional Director of General Public Intelligence
b) Additional Directorate General of Public Investigation
c) Additional Directorate General of Public Information
d) Army Directorate General of Public Information
70. What should be the Heartbeat of a Healthy Man?
a) 60–100 bpm
b) 0-60 bpm
c) 100-120 bpm
d) 100-262 bpm
---
Related: Uttarakhand General Knowledge Questions And Answers
---
71. When was the Surgical Strike done by India?
a) 29 September 2017
b) 29 September 2016
c) 29 September 2015
d) 29 September 2019
72. Which is a Good Conductor of Electricity?
a) Iron
b) Plastic
c) Water
d) Copper
73. Where is the Head Quarter of the Central Command of the Indian Army?
a) Ahmedabad
b) Lucknow
c) Jaipur
d) Kolkata
74. Who was the First Defense Minister of India?
a) Jawaharlal Nehru
b) Baldev Singh
c) Sucheta Kripalani
d) M. Visvesvaraya
75. What was the Assigned Code Name of India's First Successful Nuclear Bomb?
a) Smiling Fire
b) Smiling Monkey
c) Smiling Buddha
d) Smiling Pokhran
76. Who was the First Woman IFS Officer?
a) C. A Muthamma
b) C. B Muthamma
c) A. R Malhotra
d) Violet Alva
77. Who is known as the "Missile Man" of India?
a) A. P. J. Abdul Kalam
b) Jawaharlal Nehru
c) Mahatma Gandhi
d) Tipu Sultan
78. Which Rocket Launchers were used in the Kargil War?
a) M270 MLRS
b) M50 MLRS
c) Vikrant MBRL
d) Pinaka MBRL
79. Who is known as the Army Commander?
a) GOC
b) GOC-in-C
c) MG
d) GOC-in-D
80. How many Operational Commands does the Indian Army have?
a) 6
b) 5
c) 10
d) 7
---
Related: 100+ Indian Constitution GK Questions And Answers
---
81. Who is known as the Corps Commander?
a) LG
b) MG
c) GOC
d) G
82. How many Platoons does a Company have in the Indian Army?
a) Five
b) Four
c) Three
d) Two
83. Which Army Rank is equivalent to NATO Code OF-1?
a) Captain
b) Major
c) Lieutenant Colonel
d) Lieutenant
84. Which Rank is only held by the Chief of the Army Staff (COAS)?
a) Lieutenant General
b) Major General
c) General
d) Brigadier
85. Which Rank has No Insignia (Badge) in the Indian Army?
a) Naik
b) Lance Naik
c) Sepoy
d) Risaldar
86. Which is the Oldest Paramilitary Force in India?
a) Integrated Defence Staff
b) Assam Rifles
c) Special Frontier Force
d) Strategic Forces
87. The Indian Armed Forces are Under the Management of?
a) Chief of Defence Staff (CoDS)
b) Supreme Commander (SC)
c) Ministry of Defence (MoD)
d) Defence Secretary (DS)
88. How many Defense PSUs does the Department of Defence Production have?
a) Five
b) Two
c) Eight
d) Nine
89. How many Paramilitary Forces are in India?
a) Two
b) Three
c) Four
d) Five
90. Who Governs Assam Rifles?
a) Ministry of Defence
b) Cabinet Secretariat of India
c) State Government
d) Ministry of Home Affairs
---
Related: List Of All Prime Ministers Of India With Photo (1947 to 2023)
---
91. What is the Full Form of ICG?
a) Indian Captain Guard
b) Indian Coast Guard
c) Independent Coast Guard
d) Independent Component Guard
92. Marine Commandos (MARCOS) is a Unit of?
a) Indian Army
b) Indian Air Force
c) Indian Navy
d) Indian Coast Guard
93. Where is the Headquarters of the Defence Research and Development Organisation?
a) Bengaluru
b) Chennai
c) New Delhi
d) Mysore
94. Which is the Highest Battlefield in the World?
a) Chandra Glacier
b) Bhadal Glacier
c) Nubra Glacier
d) Siachen Glaciers
95. What is the name of the Signature Knife Used by the Gurkhas?
a) Push Dagger
b) Kukri
c) BC-41
d) Fixation Bowie
96. What is the Full Form of SSB, which is a Border Patrol Organization of India?
a) Services Selection Board
b) Sashastra Seema Bal
c) Single Side Band
d) System Selection Board
97. Where in India did U.S. Special Forces train before their deployment during the invasion of Afghanistan?
a) HAWS
b) EME
c) GRRC
d) GTC
98.  Who is the Senior Most Regiment of the Indian Army?
a) Royal Gurkha Rifles
b) President's Bodyguard
c) Punjab Regiment
d) King's Royal Rifle Corps
99. When did Operation Raahat take Place?
a) 1997
b) 2004
c) 2015
d) 2016
100. Who's Motto is "Service, Security, and Brotherhood"?
a) National Security Guard
b) Border Security Force
c) Sashastra Seema Bal
d) Central Reserve Police Force
101. Who is the new Chief of the Army Staff (COAS) (unofficially known as the Army Chief) as of 2023?
a) Manoj Pande
b) Manoj Mukund Naravane
c) Bipin Rawat
d) Dalbir Singh Suhag
102. Who is the longest-serving Chief of the Army Staff (COAS)?
a) Kodandera Subayya Thimayya
b) Jayanto Nath Chaudhuri
c) Bipin Rawat
d) Ved Prakash Malik
Chief of the Army Staff (COAS)
---
No.
Name
Term In
Term Out
Term
Commission Unit
1
Rajendrasinhji Jadeja
01 Apr
1955
14 May
1955
43D
2nd Lancers (Gardner's Horse)
2
Satyawant Mallana Srinagesh
15 May
1955
07 May
1957
1Y 357D
19th Hyderabad Regiment
3
Kodandera Subayya Thimayya
08 May
1957
07 May
1961
4Y
19th Hyderabad Regiment
4
Pran Nath Thapar
8 May
1961
19 Nov
1962
1Y 195D
1st Punjab Regiment
5
Jayanto Nath Chaudhuri
20 Nov
1962
07 Jun
1966
3Y 199D
16th Light Cavalry
6
Paramasiva Prabhakar Kumaramangalam
08 Jun
1966
07 Jun
1969
2Y 364D
Regiment of Artillery
7
Sam Hormusji Framji Jamshedji Manekshaw
08 Jun
1969
15 Jan
1973
3Y 221D
12th Frontier Force Regiment
8

Gopal Gurunath Bewoor
16 Jan
1973
31 May
1975
2Y 135D
Dogra Regiment
9

Tapishwar Narain Raina

01 Jun
1975
31 May
1978
2Y 364D
Kumaon Regiment
10
Om Prakash Malhotra
01 Jun
1978
31 May
1981
2Y 364D
Regiment of Artillery
11
Kotikalapudi Venkata Krishna Rao
01 Jun
1981
31 Jul
1983
1Y 364D
Mahar Regiment
12

Arunkumar Shridhar Vaidya
01 Aug
1983
31 Jan
1986
2Y 244D
9th Deccan Horse
13
Krishnaswamy Sundarji
01 Feb
1986
31 May
1988
2Y 120D
Mahar Regiment
14

Vishwa Nath Sharma
01 Jun
1988
30 Jun
1990
2Y 29D
16th Light Cavalry
15
Sunith Francis Rodrigues
01 Jul
1990
30 Jun
1993
2Y 364D
Regiment of Artillery
16
Bipin Chandra Joshi
01 Jul
1993
19 Nov
1994
1Y 141D
64th Cavalry
17
Shankar Roy Chowdhary
20 Nov
1994
30 Sep
1997
2Y 314D
20th Lancers
18
Ved Prakash Malik
01 Oct
1997
30 Sep
2000
2Y 365D
Sikh Light Infantry
19
Sundararajan Padmanabhan
01 Oct
2000
31 Dec
2002
2Y 91D
Regiment of Artillery
20
Nirmal Chander Vij
01 Jan
2003
31 Jan
2005
2Y 30D
Dogra Regiment
21
Joginder Jaswant Singh
01 Feb
2005
30 Sep
2007
2Y 241D
Maratha Light Infantry
22
Deepak Kapoor
01 Oct
2007
31 Mar
2010
2Y 181D
Regiment of Artillery
23
Vijay Kumar Singh
01 Apr
2010
31 May
2012
2Y 60D
Rajput Regiment
24
Bikram Singh
01 Jun
2012
31 Jul
2014
2Y 60D
Sikh Light Infantry
25
Dalbir Singh Suhag
01 Aug
2014
31 Dec
2016
2Y 152D
5 Gorkha Rifles
26
Bipin Rawat
31 Dec
2016
31 Dec
2019
3Y
11 Gorkha Rifles
27
Manoj Mukund Naravane
31 Dec
2019
30 Apr
2022
2Y 120D
Sikh Light Infantry
28
Manoj Pande
30 Apr
2022
Incumbent
~
Bombay Sappers