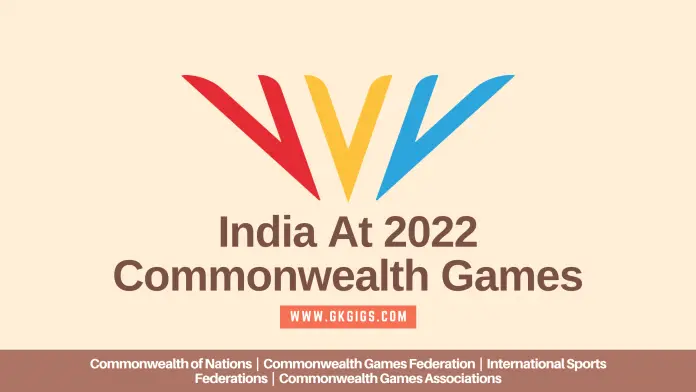 Last Updated: 10 April 2023
The Commonwealth Games often referred to as the "Friendly Games" is a Quadrennial International multi-sport event among athletes from the Commonwealth of Nations.
Commonwealth Games was first held in 1930, and except in 1942 & 1946 (canceled due to World War II) had successively run every four years from 1950 till date. The Games were called the British Empire Games from 1930 to 1950, the British Empire and Commonwealth Games from 1954 to 1966, and British Commonwealth Games from 1970 to 1974.
The Games are overseen by the Commonwealth Games Federation (CGF), which controls the sporting programme and selects host cities. The game's movement consists of International Sports Federations (IFs), Commonwealth Games Associations (CGAs), and organizing committees for each specific Commonwealth Games.
Highlights Of India at the 2022 Commonwealth Games
---
No.
Header
Information
1
Competitors
210 (106 Men & 104 Women)
2
Sports
16
3
Flag Bearers
(Opening)
1) Manpreet Singh
2) P. V. Sindhu
4
Flag Bearers
(Closing)
1) Nikhat Zareen
2) Sharath Achanta
5
Officials
24
6
Medals
Gold: 22
Silver 16
Bronze: 23
7
Rank
4th
8
First Medal
Gold: Saikhom Mirabai Chanu
Silver: Sanket Sargar
Bronze: Gururaja Poojary
Overview Of Commonwealth Games
---
Edition
Year
Host
Opened By
Competitors
Top Medal
I
1930
Canada
Viscount Willingdon
400
England
II
1934
England
George V
500
England
III
1938
Australia
Lord Wakehurst
464
Australia
~
1942
Canada
~
~
~
~
1946
Wales
~
~
~
IV
1950
New Zealand
Sir Bernard Freyberg
590
Australia
V
1954
Canada
Earl Alexander of Tunis
662
England
VI
1958
Wales
Philip, Duke of Edinburgh
1122
England
VII
1962
Australia
Philip, Duke of Edinburgh
863
Australia
VIII
1966
Jamaica
Philip, Duke of Edinburgh
1050
England
IX
1970
Scotland
Philip, Duke of Edinburgh
1383
Australia
X
1974
New Zealand
Philip, Duke of Edinburgh
1276
Australia
XI
1978
Canada
Elizabeth II
1474
Canada
XII
1982
Australia
Philip, Duke of Edinburgh
1583
Australia
XIII
1986
Scotland
Elizabeth II
1662
England
XIV
1990
New Zealand
Prince Edward
2073
Australia
XV
1994
Canada
Elizabeth II
2557
Australia
XVI
1998
Malaysia
Tuanku Jaafar
3633
Australia
XVII
2002
England
Elizabeth II
3679
Australia
XVIII
2006
Australia
Elizabeth II
4049
Australia
XIX
2010
India
Pratibha Patil
Charles, Prince of Wales
4352
Australia
XX
2014
Scotland
Elizabeth II
4947
England
XXI
2018
Australia
Charles, Prince of Wales
4426
Australia
XXII
2022
England
Charles, Prince of Wales
5054
Australia
XXIII
2026
Australia
~
~
~
Facts About Commonwealth Games
---
Athletes with a disability are included as full members of their national teams since 2002, making the Commonwealth Games the first fully inclusive international multi-sport event.
In 2018, the Games became the first global multi-sport event to feature an equal number of men's and women's medal events and four years later they are the first global multi-sport event to have more events for women than men.
Certain traditions, such as the hoisting of the Commonwealth Games flag and Queen's Baton Relay, as well as the opening and closing ceremonies, are unique to the Games.
Although there are 56 members of the Commonwealth of Nations, there are 72 Commonwealth Games Associations.
Only six nations have participated in every Commonwealth Games: Australia, Canada, England, New Zealand, Scotland, and Wales. Of these six, Australia, England, Canada and New Zealand have each won at least one gold medal in every Game. 
Australia has been the highest-achieving team for fourteen editions of the Games, England for seven, and Canada for one.
Commonwealth Games 2022 is the 22nd game to be held since 1930, It was held in Birmingham from 28th July to 8th August 2022.
The next Commonwealth Games will be the first games in history held in a decentralized way, as they are scheduled to be hosted across four cities in the Australian state of Victoria from 17th to 29th March 2026.
India At Commonwealth Games 2022
---
India's appearance at the 2022 Commonwealth Games was India's 18th appearance at the Games.
Hockey player Manpreet Singh and badminton athlete P. V. Sindhu served as the country's opening ceremony flagbearers. Boxer Nikhat Zareen and Table Tennis player Sharath Achanta served as the country's closing ceremony flagbearers.
In July 2022, the Indian team of 106 men and 104 women (210 Competitors) competing in 16 sports was named.
India did not compete in 3×3 Basketball, Beach Volleyball, Netball, and Rugby Sevens.
Indian para-athletes competed in Athletics, Para Powerlifting, Swimming, and Table Tennis.
Squash player Anahat Singh became the youngest Indian athlete to compete at the Commonwealth Games at just 14 years of age.
45-year-old Lawn Bowls player Sunil Bahadur was the oldest player in the contingent.
India's first Commonwealth medal of the Games was won by Sanket Sargar with a Silver in weightlifting on 30th July.
Saikhom Mirabai Chanu won the first Gold Medal for India at the Commonwealth Games 2022 on 30th July.
India won its first-ever medals in Lawn Bowls, the Women's Fours team won Gold Medal while the Men's Fours won the Silver Medal.
Sharath Kamal Achanta won Four Medals in Table Tennis (3 Gold and 1 Silver) at the CWG 2022.
India won the most medals in the Wresting Sport, Gold: 6, Silver: 1, Bronze: 5, a total of 12 Medals.
The second sport where India won the most medals after Wresting was weightlifting, with Gold: 3, Silver: 3, and Bronze: 4, a total of 10 Medals.
Indian Competitors At CWG 2022
---
| No. | Sport | Men | Women | Total |
| --- | --- | --- | --- | --- |
| 1 | Athletics | 20 | 18 | 38 |
| 2 | Badminton | 5 | 5 | 10 |
| 3 | Boxing | 8 | 4 | 12 |
| 4 | Cricket | ~ | 15 | 15 |
| 5 | Cycling | 9 | 4 | 13 |
| 6 | Gymnastics | 3 | 4 | 7 |
| 7 | Hockey | 18 | 18 | 36 |
| 8 | Judo | 3 | 3 | 6 |
| 9 | Lawn Bowls | 5 | 5 | 10 |
| 10 | Para Powerlifting | 2 | 3 | 5 |
| 11 | Squash | 5 | 4 | 9 |
| 12 | Swimming | 7 | 0 | 7 |
| 13 | Table Tennis | 5 | 7 | 12 |
| 14 | Triathlon | 2 | 2 | 4 |
| 15 | Weightlifting | 8 | 7 | 15 |
| 16 | Wrestling | 6 | 6 | 12 |
| | Total | 106 | 104 | 210 |
Medals Won By Indian Players
---
Gold Medal Winners
---
No.
Athletic
Sports
Event
Date
1
Saikhom Mirabai Chanu
Weightlifting
Women's
49Kg
30 Jul
2
Jeremy Lalrinnunga
Weightlifting
Men's
67Kg
31 Jul
3
Achinta Sheuli
Weightlifting
Men's
73Kg
31 Jul
4
a) Lovely Choubey
b) Nayanmoni Saikia
c) Pinki Singh
d) Rupa Rani Tirkey
Lawn Bowls
Women's
Fours
2 Aug
5
a) Gnanasekaran
b) Harmeet Desai
c) Sanil Shetty
d) Sathiyan
e) Sharath Achanta
Table Tennis
Men's
Team
2 Aug
6
Sudhir
Para
Powerlifting
Men's
Heavyweight
4 Aug
7
Bajrang Punia
Wrestling
Men's
Freestyle
65Kg
5 Aug
8
Sakshi Malik
Wrestling
Women's
Freestyle
62Kg
5 Aug
9
Deepak Punia
Wrestling
Men's
Freestyle
86Kg
5 Aug
10
Ravi Kumar Dahiya
Wrestling
Men's
Freestyle
57Kg
6 Aug
11
Vinesh Phogat
Wrestling
Women's
Freestyle
53Kg
6 Aug
12
Naveen Malik
Wrestling
Men's
Freestyle
74Kg
6 Aug
13
Bhavina Patel
Table Tennis
Women's
Singles
C3–5
6 Aug
14
Nitu Ghanghas
Boxing
Women's
48Kg
7 Aug
15
Amit Panghal
Boxing
Men's
51Kg
7 Aug
16
Eldhose Paul
Athletics
Men's
Triple
Jump
7 Aug
17
Nikhat Zareen
Boxing
Women's
50Kg
7 Aug
18
a) Sharath Achanta
b) Sreeja Akula
Table Tennis
Mixed
Doubles
7 Aug
19
P. V. Sindhu
Badminton
Women's
Singles
8 Aug
20
Lakshya Sen
Badminton
Men's
Singles
8 Aug
21
a) Chirag Shetty Satwiksairaj
b) Rankireddy
Badminton
Men's
Doubles
8 Aug
22
Sharath Achanta
Table Tennis
Men's
Singles
8 Aug
Silver Medal Winners
---
No.
Athletic
Sports
Event
Date
1
Sanket Sargar
Weightlifting
Men's
55Kg
30 Jul
2
Bindyarani Devi
Weightlifting
Women's
55Kg
30 Jul
3
Shushila Likmabam
Judo
Women's
48Kg
1 Aug
4
Vikas Thakur
Weightlifting
Men's
96Kg
2 Aug
5
India Badminton Team
a) Aakarshi Kashyap
b) Ashwini Ponnappa
c) B. Sumeeth Reddy
d) Chirag Shetty
e) Gayathri Gopichand
f) Lakshya Sen
g) P. V. Sindhu
h) Rankireddy
i) Satwiksairaj
j) Srikanth Kidambi
k) Treesa Jolly
Badminton
Mixed
Team
2 Aug
6
Tulika Maan
Judo
Women's
+78Kg
3 Aug
7
Murali Sreeshankar
Athletics
Men's
Long
Jump
4 Aug
8
Anshu Malik
Wrestling
Women's
Freestyle
57Kg
5 Aug
9
Priyanka Goswami
Athletics
Women's
10,000m
Walk
6 Aug
10
Avinash Sable
Athletics
Men's
3000 m
Steeplechase
6 Aug
11
a) Chandan Singh
b) Dinesh Kumar
c) Navneet Singh
d) Sunil Bahadur
Lawn bowls
Men's
Fours
6 Aug
12
Abdulla Aboobacker
Athletics
Men's
Triple
Jump
7 Aug
13
a) Sathiyan Gnanasekaran
b) Sharath Achanta
Table tennis
Men's
Doubles
7 Aug
14
India Women's Cricket Team
a) Deepti Sharma
b) Harleen Deol
c) Harmanpreet Kaur
d) Jemimah Rodrigues
e) Meghna Singh
f) Pooja Vastrakar
g) Radha Yadav
h) Rajeshwari Gayakwad
i) Renuka Singh
j) Sabbhineni Meghana
k) Shafali Verma
l) Smriti Mandhana
m) Sneh Rana
n) Taniya Bhatia
o) Yastika Bhatia
Cricket
Women's
Cricket
7 Aug
15
Sagar Ahlawat
Boxing
Men's
+92 kg
7 Aug
16
India Men's Hockey Team
a) Abhishek
b) Akashdeep Singh
c) Amit Rohidas
d) Gurjant Singh
e) Hardik Singh
f) Harmanpreet Singh
g) Jarmanpreet Singh
h) Jugraj Singh
i) Krishan Pathak
j) Lalit Upadhyay
k) Mandeep Singh
l) Manpreet Singh
m) Nilakanta Sharma
n) P. R. Sreejesh
o) Shamsher Singh
p) Surender Kumar
q) Varun Kumar
r) Vivek Prasad
Hockey
Men's
Tournament
8 Aug
Bronze Medal Winners
---
No.
Athletic
Sports
Event
Date
1
Gururaja Poojary
Weightlifting
Men's
61Kg
30 Jul
2
Vijay Kumar Yadav
Judo
Men's
60Kg
1 Aug
3
Harjinder Kaur
Weightlifting
Women's
71Kg
1 Aug
4
Lovepreet Singh
Weightlifting
Men's
109Kg
3 Aug
5
Saurav Ghosal
Squash
Men's
Singles
3 Aug
6
Gurdeep Singh
Weightlifting
Men's
+109Kg
3 Aug
7
Tejaswin Shankar
Athletics
Men's
High
Jump
3 Aug
8
Divya Kakran
Wrestling
Women's
Freestyle
68Kg
5 Aug
9
Mohit Grewal
Wrestling
Men's
Freestyle
125Kg
5 Aug
10
Jaismine Lamboria
Boxing
Women's
Lightweight
6 Aug
11
Pooja Gehlot
Wrestling
Women's
Freestyle
50Kg
6 Aug
12
Pooja Sihag
Wrestling
Women's
Freestyle
76Kg
6 Aug
13
Mohammad Hussamuddin
Boxing
Men's
Featherweight
6 Aug
14
Deepak Nehra
Wrestling
Men's
Freestyle
97Kg
6 Aug
15
Sonalben Patel
Table Tennis
Women's
Singles
C3–5
6 Aug
16
Rohit Tokas
Boxing
Men's
Welterweight
6 Aug
17
India Women's Hockey Team
a) Deep Grace Ekka
b) Gurjit Kaur
c) Jyoti
d) Lalremsiami
e) Monika Malik
f) Navneet Kaur
g) Neha Goyal
h) Nikki Pradhan
i) Nisha Warsi
j) Rajani Etimarpu
k) Salima Tete
l) Sangita Kumari
m) Savita Punia
n) Sharmila Devi
o) Sonika Tandi
p) Sushila Chanu
q) Udita Duhan
r) Vandana Katariya
Hockey
Women's
Tournament
7 Aug
18
Sandeep Kumar
Athletics
Men's
10,000 m
Walk
7 Aug
19
Annu Rani
Athletics
Women's
Javelin
Throw
7 Aug
20
a) Dipika Pallikal
b) Saurav Ghosal
Squash
Mixed
Doubles
7 Aug
21
Srikanth Kidambi
Badminton
Men's
Singles
7 Aug
22
a) Gayathri Gopichand
b) Treesa Jolly
Badminton
Women's
Doubles
7 Aug
23
Sathiyan Gnanasekaran
Table Tennis
Men's
Singles
8 Aug
Medals By Sport
---
| No. | Sport | Gold | Silver | Bronze | Total |
| --- | --- | --- | --- | --- | --- |
| 1 | Wrestling | 6 | 1 | 5 | 12 |
| 2 | Table tennis | 4 | 1 | 2 | 7 |
| 3 | Weightlifting | 3 | 3 | 4 | 10 |
| 4 | Boxing | 3 | 1 | 3 | 7 |
| 5 | Badminton | 3 | 1 | 2 | 6 |
| 6 | Athletics | 1 | 4 | 3 | 8 |
| 7 | Lawn Bowls | 1 | 1 | 0 | 2 |
| 8 | Para powerlifting | 1 | 0 | 0 | 1 |
| 9 | Judo | 0 | 2 | 1 | 3 |
| 10 | Hockey | 0 | 1 | 1 | 2 |
| 11 | Cricket | 0 | 1 | 0 | 1 |
| 12 | Squash | 0 | 0 | 2 | 2 |
| 13 | Total | 22 | 16 | 23 | 61 |
Medals By Gender
---
| No. | Gender | Gold | Silver | Bronze | Total |
| --- | --- | --- | --- | --- | --- |
| 1 | Male | 13 | 9 | 13 | 35 |
| 2 | Female | 8 | 6 | 9 | 23 |
| 3 | Mixed | 1 | 1 | 1 | 3 |
| | Total | 22 | 16 | 23 | 61 |
Medals By Date
---
| Day | Date | Gold | Silver | Bronze | Total |
| --- | --- | --- | --- | --- | --- |
| Day 1 | 29 Jul | 0 | 0 | 0 | 0 |
| Day 2 | 30 Jul | 1 | 2 | 1 | 4 |
| Day 3 | 31 Jul | 2 | 0 | 0 | 2 |
| Day 4 | 1 Aug | 0 | 1 | 2 | 3 |
| Day 5 | 2 Aug | 2 | 2 | 0 | 4 |
| Day 6 | 3 Aug | 0 | 1 | 4 | 5 |
| Day 7 | 4 Aug | 1 | 1 | 0 | 2 |
| Day 8 | 5 Aug | 3 | 1 | 2 | 6 |
| Day 9 | 6 Aug | 4 | 3 | 7 | 14 |
| Day 10 | 7 Aug | 5 | 4 | 6 | 15 |
| Day 11 | 8 Aug | 4 | 1 | 1 | 6 |
| | Total | 22 | 16 | 23 | 61 |
MCQs On Commonwealth Games 2022
---
1. Where was Commonwealth Games held for the first time?
a) Canada
b) England
c) Australia
d) Wales
2. When was Commonwealth Games held for the first time?
a) 1926
b) 1930
c) 1934
d) 1938
3. Where were Commonwealth Games held in 2018?
a) Australia
b) Scotland
c) India
d) England
4. Where was Commonwealth Games held in 2022?
a) Australia
b) Scotland
c) England
d) New Zealand
5. Where will Commonwealth Games be held in 2026?
a) Australia
b) Scotland
c) Malaysia
d) New Zealand
6. How many medals were won by Indian Men in the Commonwealth Games 2022?
a) 37 Medals
b) 35 Medals
c) 33 Medals
d) 31 Medals
7. How many medals were won by Indian Women in the Commonwealth Games 2022?
a) 33 Medals
b) 27 Medals
c) 23 Medals
d) 19 Medals
8. On which day did Indian players win the highest number of medals in the Commonwealth Games 2022?
a) 5th August 2022
b) 6th August 2022
c) 7th August 2022
d) 8th August 2022
9. Who is the youngest Indian athlete to compete at the Commonwealth Games?
a) Murali Sreeshankar
b) Nitu Ghanghas
c) Jeremy Lalrinnunga
d) Anahat Singh
10. In which sport India didn't participate in the Commonwealth Games 2022?
a) Lawn Bowls
b) Judo
c) Triathlon
d) Netball